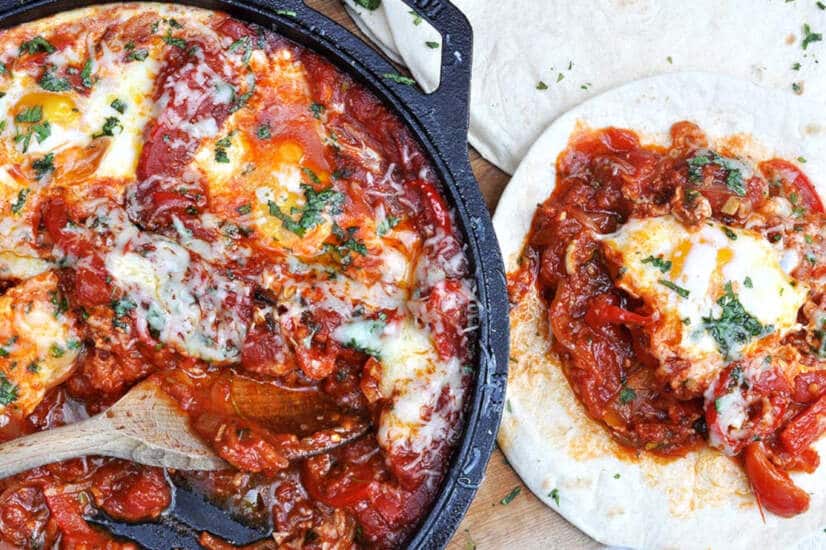 Huevos Rancheros
Home | Recipes | Breakfast | Mexican Classics
As anyone who has had breakfast in Mexico City knows, a Mexican breakfast is epic. And right at the top of must-try Mexican breakfast dishes is this Huevos Rancheros recipe.
As with most authentic Mexican food, an authentic Huevos Rancheros recipe can take different forms depending on which part of Mexico you're in. Variations include the way the eggs are presented to the type of tomato used. There's no right or wrong way, as long as it tastes delicious.
Here is our take on this classic Mexican breakfast dish. The secret is to leave the eggs a little underdone while they are cooking on the hob, then finishing them off under the grill with plenty of grated cheese. Then you can enjoy the sight of the runny eggs mixing with the beautifully rich and spicy tomato sauce. This dish is delicious wrapped up in some warmed Soft Taco Wraps tortilla wraps.
Be sure to also try our Chilaquiles recipe (Mexican Breakfast Nachos) and our Avocado Toast Recipe.
Prep time

30 mins

Cook time

20 mins

Total time

50 mins

Ideal for

Breakfast

Make it

Mexican

Serves

4
How to make it
Heat a good slug of oil in a large pan (with a lid for later) on a low–medium heat. Add the onion, garlic, peppers, chipotle paste and bay leaves and season with salt and pepper. You can also add the chopped coriander stalks. Fry the vegetables for about 15 minutes until starting to soften.
Add the fresh and canned tomatoes, then stir in the sugar to balance the acidity of the tomatoes. Mix together and cook for another 10 minutes, or until it is reducing down to a nice, rich sauce. Taste and adjust the seasoning.
Use a food processor to blend about three-quarters of the sauce until completely smooth. Return it to the pan and mix in.
4 Preheat the grill.
Now, make four spaces in the sauce, evenly spaced out, with a wooden spoon. Crack each egg into its own space. Put the lid on and cook for about 4 minutes until the eggs are almost, but not completely, cooked. This is important. Take the pan off the heat while they're still undercooked.
Sprinkle with the cheese and flash under a hot grill for a few minutes to melt the cheese and finish off the eggs in Huevos Rancheros.
Finally, sprinkle with the coriander leaves and serve with warm tortillas or some nice crusty toasted bread in the final step of cooking Huevos Rancheros.
Have you tried these recipes?