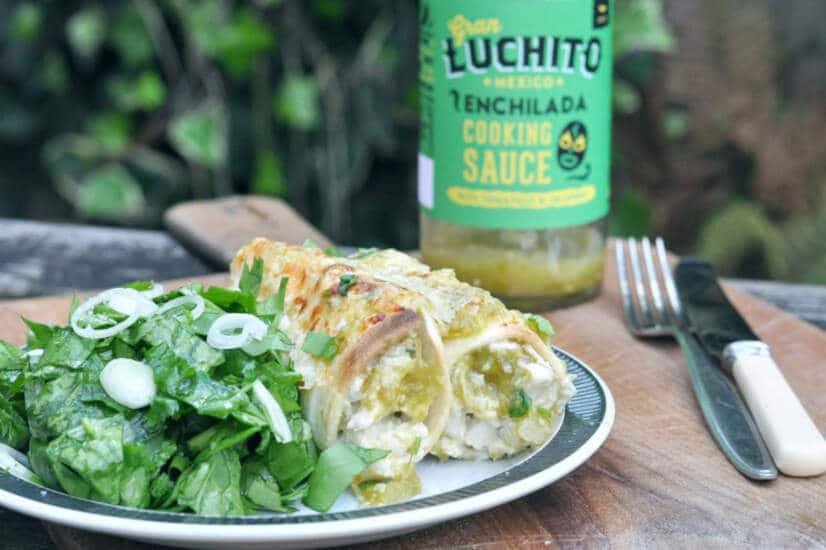 Easy Chicken Enchiladas
Home | Recipes | Enchiladas | Mexican Classics | Quick & Easy
With our Enchilada Cooking Sauce, we make it easy for you to make delicious and savoury, ooey, gooey Chicken Enchiladas with only a handful of ingredients in about 30 minutes.
With mild, fresh flavours of tomatillos, jalapeños, onion and garlic, these Easy Chicken Enchiladas are perfect for the whole family to enjoy especially when you need to cater for those who prefer milder flavours. This recipe serves 2-3 but you can easily double or triple it.
Try serving this chicken enchiladas verdes recipe with a side of Tomato Salad or this Panzanella Salad.
Prep time

15 mins

Cook time

15 mins

Total time

30 mins

Ideal for

Dinner

Make it

Mexican

Serves

2-3
How to make it
Cut chicken into medium-sized chunks, add to saucepan, cover with salted water & bring to boil.
Simmer for 15 mins, then drain water from pan.
With two forks shred the cooked chicken into small pieces.
Mix 1/2 bottle of Enchilada Cooking Sauce with sour cream & chicken.
Add a big dollop of chicken mixture onto each Soft Taco Wraps, roll Soft Taco Wrapss & place in ovenproof dish. Repeat with remaining Soft Taco Wrapss.
Pour remaining sauce from bottle over Soft Taco Wraps & top with grated cheese.
Bake in a preheated oven (180C) for 20 mins until golden brown.
Have you tried these recipes?