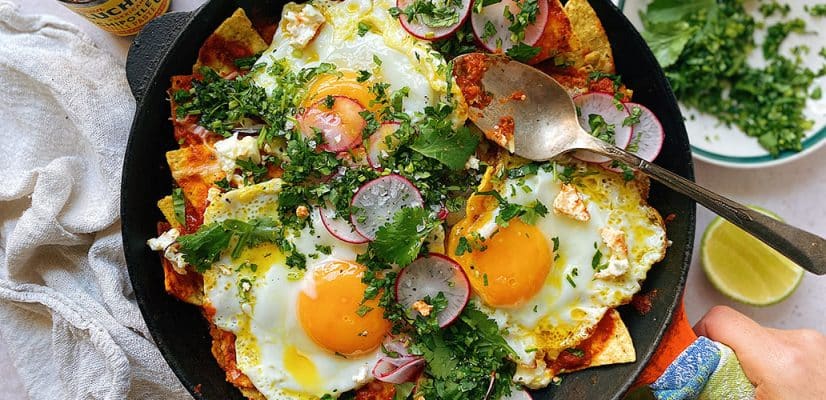 Chilaquiles
Chilaquiles (pronounced chee-lah-kee-lehs) are a traditional Mexican breakfast most commonly served at brunch. 
Chilaquiles mainly consist of Gran Luchito Lightly Salted Tortilla Chips smothered in a green or red salsa, sometimes served with shredded poached chicken or fried eggs, melted cheese on top and a drizzle of crema. It makes for a delectable and filling Mexican egg dish with just enough of a spicy kick.
Our version of this classic Mexican breakfast has a delicious and smoky red chilaquiles sauce (Chilaquiles Rojos), made using our secret weapon, Gran Luchito Chipotle Paste. However, if you wanted to make the green version (Chilaquiles Verdes), you can make it with our Gran Luchito Tomatillo Salsa.
If you're ever lucky enough to visit Mexico City be sure to discover these Mexico City breakfast spots which all serve amazing Chilaquiles with eggs. For more Mexican eggs inspiration check out our Mexican Breakfast Recipes, in particular our authentic Huevos Rancheros recipe, amongst many more!
Prep time

10 mins

Cook time

40 mins

Total time

50 mins

Ideal for

Breakfast

Make it

Mexican

Serves

2
How to make it
To make the sauce, heat the oil in a frying pan over a medium heat. Add the onion, garlic and Gran Luchito Chipotle Paste, and cook for 20 minutes until softened.
Pour in the passata, add the coriander stalks and season to taste with salt and freshly ground black pepper. Simmer for a couple of minutes on a low heat.
Pour the sauce into a blender and blitz until smooth, then set aside. Preheat the grill in your oven.
Spoon about half of the sauce into an ovenproof dish and add half of the Gran Luchito Lightly Salted Tortilla Chips, then move them around until they're nicely coated.
Sprinkle with half the feta and the cheddar cheese, as well as half the reserved coriander leaves. Cover with the remaining chips and the sauce, making sure all the chips are covered.
Sprinkle with the remaining cheese, add the sliced red onion and a drizzle of olive oil. Place under the grill for about 5–6 minutes, or until the cheese is golden and crisp.
Meanwhile, fry the eggs in a little oil (or poach them for a healthier alternative) keeping the yolks nice and runny as this will really add something to the dish.
Remove from the grill, top with the fried eggs and sprinkle with the radishes and coriander. Serve with wedges of lime for people to squeeze as they please!
Chefs Tip:
If you don't have time to make the chilaquiles sauce, you could use a bottle of our Gran Luchito Mild Fajita Cooking Sauce instead.
Download Our Free Guide To Mexican Breakfast
Your free guide will be emailed to you immediately.
Similar Recipes You Might Like to Try
Please let us know what you think of this recipe