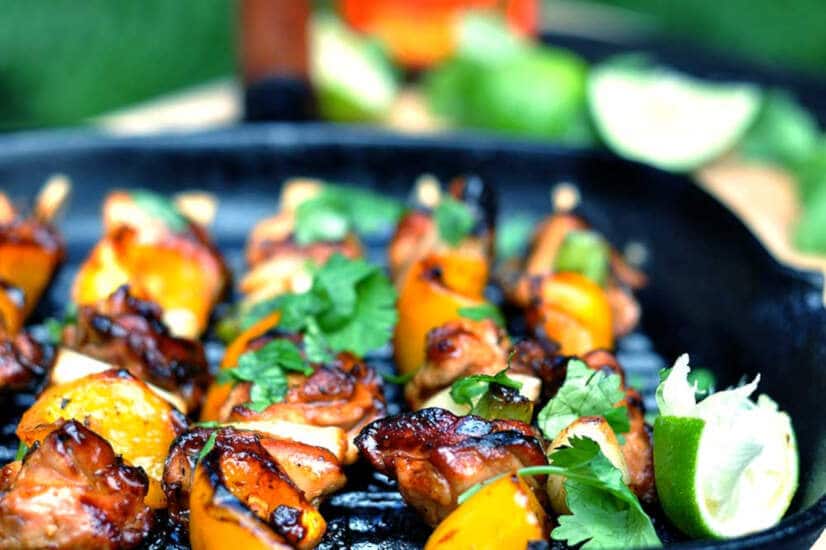 Sticky Chicken Skewers
Chicken skewers are a great thing to throw on the BBQ or in the oven for a crowd-pleasing dish anytime of year. With a sticky, lick your fingers glaze we think this chicken skewer recipe is irresistible.
Added bonus, chicken skewers are so easy to make and super delicious. Marinating and basting are the most important steps.  To make the marinade you simply need to mix our smoky chipotle honey with sesame oil, soy sauce and ginger. Then save a bit of the marinade so you can baste your skewers as they grill. We like to add peppers and onions onto the skewers and pineapple would also work really well.
We recommend that you use diced chicken thighs to make this chicken skewer recipe. We love thigh meat as it has so much more flavour than breast, and it's far more difficult to overcook and dry out. However, if you haven't got any to hand chicken breast will also do.
If you like these chicken skewers you should also check out our sticky pork belly recipe.
Prep time

20 mins.

Cook time

10 mins

Total time

30 mins

Ideal for

Dinner

Make it

Mexican

Serves

2
How to make it
Mix the marinade ingredients in a bowl.
Thread the chicken, pepper, spring onion and garlic onto the skewers, alternating the ingredients.
Place in a wide shallow bowl and pour over the marinade, mix around so everything is covered and leave for 10 minutes.
Place on a hot barbecue or grill. Leave to char a little before turning over (the honey will burn quite easily so be careful). Continue cooking, brushing with the marinade as you go, and turning until chicken is cooked through (about 8–10 minutes should be fine), then remove from the heat and allow to cool a little and rest.
Cut into a thick piece of chicken to check it's cooked, then sprinkle with coriander leaves and serve with wedges of lime.
Chef's tip
Soak wooden skewers in water for an hour before using them to prevent them burning on the barbecue.
Have you tried these recipes?
Inline Feedbacks
View all comments