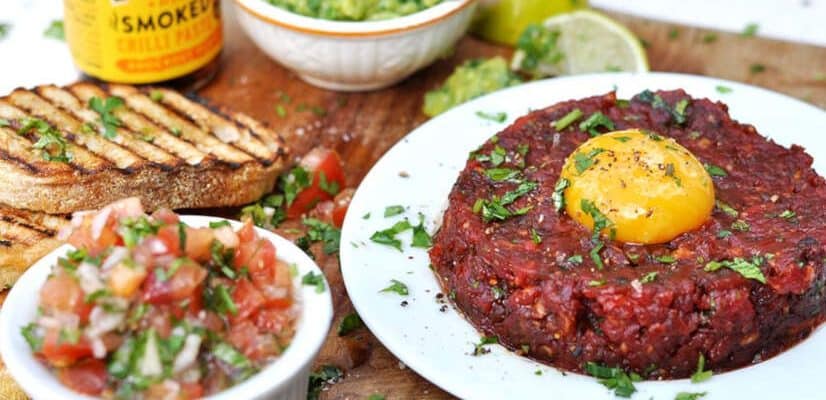 Mexican Steak Tartare
The idea was to see what a Mexican-inspired version of steak tartare would taste like. So we swapped out the capers and cornichons for guacamole, pico de gallo (tomato & onion salsa) and of course a little of our Gran Luchito Chipotle Paste. To say we were happy with the result is an understatement. Great little weekend lunch idea to eat with some nice toasted sourdough.
If you have any leftover beef you could give our Chipotle Beef Nachos a go.
Prep time

Cook time

Total time

Ideal for

Meat

Make it

Mexican

Serves

1
Nutrition: Per serving
kcal 129
fat 6.9g
saturates 1.8g
carbs 9.5g
sugars 1.9g
fibre 1.5g
protein 5.4g
salt 0.48g
How to make it
Finely chop the steak as small as you can get it (it should resemble minced steak).
Mix in the Gran Luchito Chipotle Paste, a small dash of olive oil, a little coriander and season with salt & pepper. Don't be afraid to taste at this stage to get the right flavours. Use a ramekin to shape the beef and turn out on to a plate.
Mash the avocado and add 1 teaspoon lime juice, 1 teaspoon chopped coriander, salt & pepper (you don't have to be exact, just keep tasting until you are happy with it).
Make the pico de gallo by combining the finely chopped shallot, tomato, coriander, ½ teaspoon lime juice and a little olive oil, salt & pepper (again, adjust to your own tastes).
Toast some nice crusty sourdough or ciabatta bread.
Finally, make a small indent with the back of a teaspoon in the top of the beef, and carefully put the egg yolk on top.
Serve the different elements individually.
Similar Recipes You Might Like to Try
Comments / Questions / Tips

Subscribe now for a free copy of the Gran Luchito e-cookbook filled with delicious, authentic Mexican recipes and join our mailing list for all the latest recipes, news and blog updates.