Tacos Al Pastor
Home | Recipes | Mexican Classics | Tacos
Prep time

10 mins

Cook time

40 mins

Total time

50 mins

Ideal for

Mexican

Make it

Mexican

Serves

4
How to make it
In a blender, blitz the pineapple juice, onion, Gran Luchito Garlic & Guajillo Fajita & Taco Mix and 1 tbsp salt (this will act as a brine and make the meat very juicy and tender).
Add the meat slices to the brine (a zip-lock freezer bag works well) and leave in the fridge overnight (or at least for 3-4 hours). Allow to come up to room temperature before cooking.
Pre-heat your oven grill to the highest it will go. Remove the meat from the marinade and place it on a tray and under the grill. You'll want to leave it cooking for about 12/13 minutes per side. Some parts will start to char, others will stay brown.
Once you've got some good colour on each side, remove and set aside to rest.
Warm some Gran Luchito Soft Wheat Street Taco Tortilla Wraps in the warm oven.
After 10 minutes of resting, slice the meat into rough cubes, mix with a handful of roughly chopped coriander, a squeeze of lime and serve with the tortillas, some Gran Luchito Jalapeno & Pineapple and fresh lime wedges. Fresh mint leaves would also work well with this in place of coriander.
Have you tried these recipes?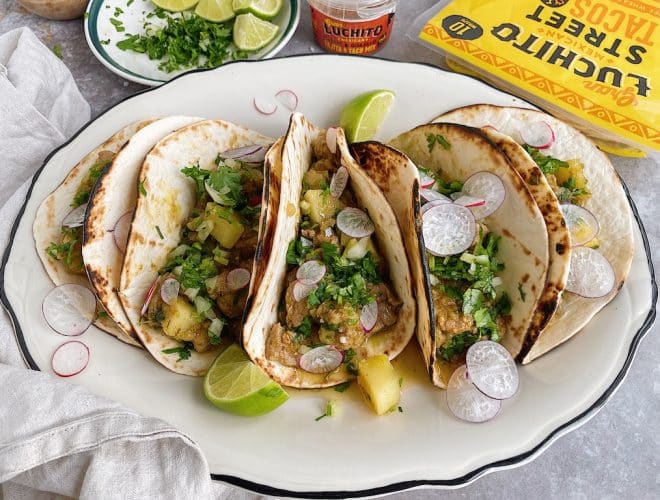 Uses Soft Taco Wraps , Garlic & Guajillo Fajita & Taco Mix , Enchilada Cooking Sauce
Inline Feedbacks
View all comments