Spicy Chipotle Pork Tacos
These Spicy Chipotle Pork Tacos are the recipe for you if you'd like to try something fun and delicious with pork loin. Our Chipotle Paste and Chipotle Salsa are combined with Serrano Chillies for the ultimate kick. They result in some seriously moreish tacos!
Try and marinade the pork overnight in the Chipotle Paste if you can, but if not then 2 hours or so before frying. This will really crank up the flavour, taking this dish to the next level!
Prep time

10 mins

Cook time

5 mins

Total time

15 mins

Ideal for

Dinner

Make it

Mexican

Serves

4
How to make it
Slice the pork loin in half length ways, then slice into semi-circles roughly 1 cm thick.
Into a bowl, put the sliced pork loin and Chipotle Paste and mix well until the pork is completely coated. If you can, leave overnight to marinade, but 2 hours will do if you are pushed for time.
Just before you are ready to eat, cook the pork in a hot frying pan until golden.
Warm the Soft Wheat Soft Taco Wraps, either in a microwave or pan.
Spoon a dollop of Chipotle Salsa into the middle of the taco and spread out.
Fan out a few pieces of sliced avocado.
Add a few pieces of the chipotle pork loin.
Toppings: Sprinkle over grated cheese, chopped coriander, a few Serrano Green Chillies. Finish off with a squeeze of lime!
Have you tried these recipes?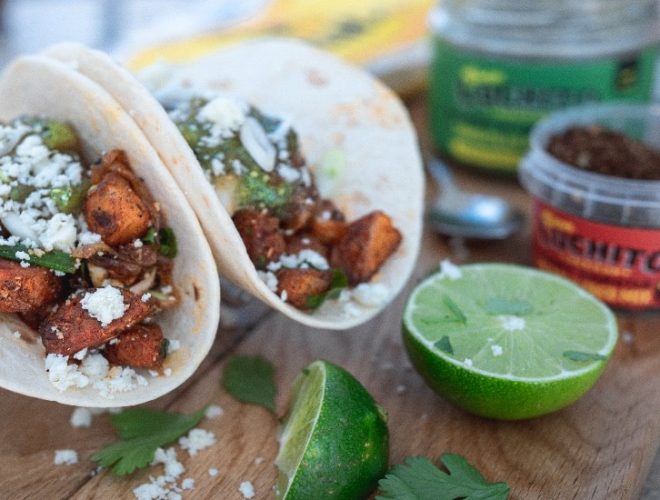 Uses Zingy & Tangy Tomatillo Salsa , Soft Taco Wraps , Smoky Chipotle Fajita & Taco Mix