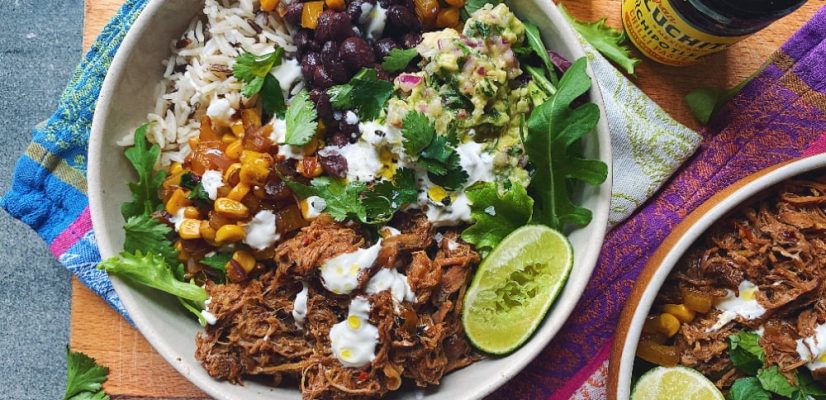 Pulled Pork Burrito Bowl
The best thing about making a pulled pork burrito bowl means you get everything you love about burritos, but you're not constrained by the size of your wrap (although we like having a handful of Gran Luchito Soft Taco Wraps on hand for wrapping it all up)! The pulled pork can easily be switched out for chicken or even this Mediterranean vegetable salsa for a veggie version. Packed full of veggies, this pulled pork burrito bowl is also slightly healthier than the usual burrito.
You can serve your pulled pork Mexican bowl with a side of either our Mexican Corn or a large dollop of our Gran Luchito Mango and Habanero Salsa.
Check out our Burrito Recipes Collection.
Prep time

20 mins

Cook time

10 mins

Total time

30 mins

Ideal for

Lunch

Make it

Mexican

Serves

2
How to make it
Begin by getting the rice on the go. Place dry rice in a saucepan with double the volume of water to rice (1 large cup will do for 2 people).
Season with a little salt, add any spices you like (we love popping a cinnamon stick or star anise in), place a lid on it, and bring to the boil. When boiling, reduce heat as low as possible then continue cooking until all water has disappeared. Don't remove lid throughout process. Leave aside.
Next on to the vegetables. Heat a griddle pan on a high temperature. Slice the peppers and red onion and place in a bowl along with the sweetcorn, with a little olive oil, salt & pepper. Move veg around so they get covered.
Carefully place into griddle pan and leave to cook for a few minutes. When beginning to char, use a spatula to turn them. Leave aside.
Make the guacamole by mashing the avocado flesh with a fork. Stir through some chopped coriander, a good squeeze of lime juice and the finely sliced ¼ red onion.
Heat your pulled pork in the oven with some foil stopping it from drying out. Stir through a teaspoon of Gran Luchito Chipotle Paste (if not using leftover pulled pork from our recipe). Alternatively you could stir it through the sour cream.
Warm some Gran Luchito Soft Taco Wraps (if using).
Assemble your burrito bowl by mixing everything together, or do what we did and keep it all separate. Don't forget to add your salad leaves, Gran Luchito Cantina Beans and sour cream. A little drizzle of olive oil, a squeeze of fresh lime juice and a sprinkle of freshly chopped coriander will take it all to the next level.
Similar Recipes You Might Like to Try
Please let us know what you think of this recipe