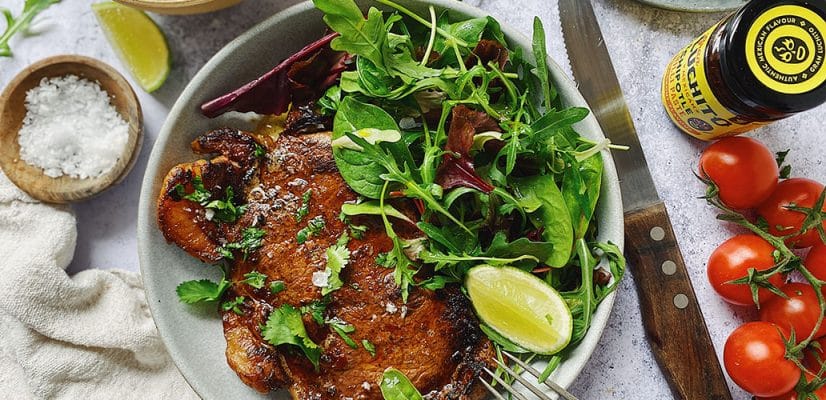 Mexican Steak
Steak has always been a bit of a favourite at a lot of people's homes. Coming back from a long day's work and stopping off at the local butcher to pick up a sirloin is a real treat. During the summer a lot of people tend to cook steaks outside on a BBQ, and we find this gives them the best flavour. But this simple Mexican steak recipe will work just as well on a kitchen grill.
Our Chipotle Paste is a great little condiment to just be put on the side of a cooked steak. Its sweetness and smokiness really compliments the flavour of the meat. You could also make some of our Chipotle Butter recipe to go on the side with your steak. However, if you have time we highly recommend you try this Mexican steak recipe. You need to plan at least an hour ahead to let the meat take in all the flavour from the Chipotle Paste.
In the pictures below we served the steak with a green salad, along with our recipe for Pico de Gallo and Soft Taco Wraps, but we also recommend trying it with our Crispy Homemade Chips recipe.
Prep time

1 hour 5 mins

Cook time

6 mins

Total time

1 hour 11 mins

Ideal for

Dinner

Make it

Mexican

Serves

1
How to make it
Rub the

Chipotle Paste

onto the steak, and let it rest for an hour to take in all the lovely flavour.

Heat a griddle pan until it's smoking hot.

Add the olive oil and lay the steak onto the hot pan, and add a sprinkle of flaky salt and freshly ground black pepper. Cook it for a minute or so before flipping over.

Once you flip your steak add in the butter and let it melt. Then with the help of the spoon baste your steak with the melted butter and pan juices to finish your steak nicely.

Remove your steak from the pan, wrap it in tin foil and let it rest for 6-7 minutes before cutting.

Serve your steak with fresh green salad leaves, pico de gallo, warm Soft Taco Wraps and lime wedges on the side. Enjoy!
Similar Recipes You Might Like to Try
Please let us know what you think of this recipe