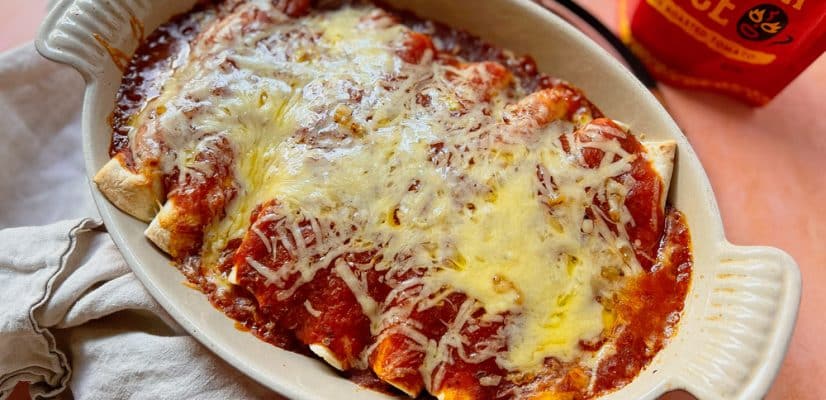 Cheese Enchiladas
Cheese Enchiladas have long been a Tex Mex favourite. The way we describe them is, the perfect comfort food you can make at home that makes everyone happy.
And yes, a cheese enchiladas recipe is just how you think it's made; tortillas filled with cheese, rolled into a taquito shape, and layered in a baking dish. They are then covered with a good amount of delicious sauce, in this case our Gran Luchito Chipotle Enchilada Sauce, and finished with even more cheese! They are finally baked in the oven to make them gooey and ready to serve. The stuff of dreams!
We like to use a combination of two cheeses for the perfect cheese enchiladas, and here are a few of our recommendations: Grated Mozzarella, Cheddar, Monterrey Jack, Gruyère, Gouda, and Manchego.
Here are some of our favourite side dishes to serve with authentic cheese enchiladas:

If you're thinking of serving something else alongside these cheese enchiladas for a dinner party, why not try our recipes for Chile Colorado and Ropa Vieja.
Prep time

Cook time

Total time

Ideal for

Dinner

Make it

Mexican

Serves

4
Nutrition: Per serving
kcal 228
fat 11g
saturates 5.7g
carbs 22.4g
sugars 8.5g
fibre 2.6g
protein 9.6g
salt 0.92g
How to make it
In a bowl, combine both kinds of cheese and reserve 50g to add on top.

Heat up a frying pan over medium heat and add the olive oil and butter. Once the butter melts, add the onion and garlic. Fry gently until they soften without burning for 5 mins approx. Once ready, remove from the pan and add into the bowl with the majority of the grated cheese. Stir with a spoon and set aside.

Prepare a medium size baking dish. Place all of the

Soft Taco Wraps

over your kitchen surface and add the cheese mixture in equal parts onto each, then roll one by one and arrange them in the baking dish.

Open the sachet of red Chipotle Enchilada Sauce and pour all the contents over the surface of the rolled taquitos. Add the remaining grated cheese on top and bake in the oven for 15 mins. Serve while it's still warm. Enjoy!
What To Serve With Cheese Enchiladas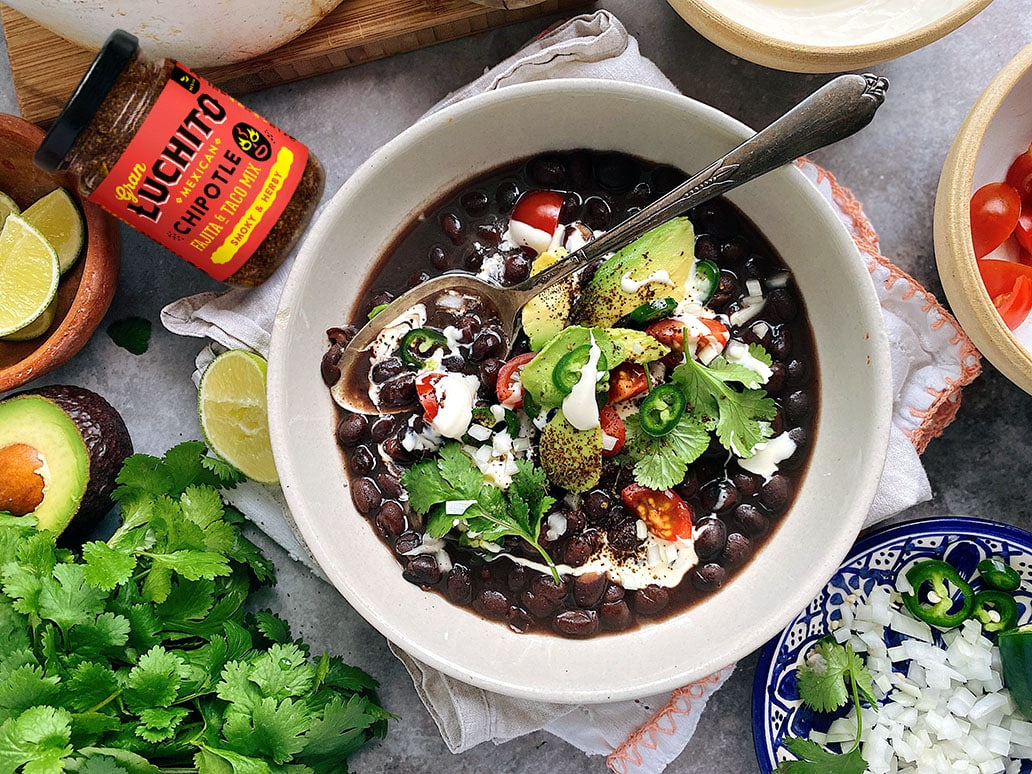 Serve them with a portion of this Mexican Black Beans recipe.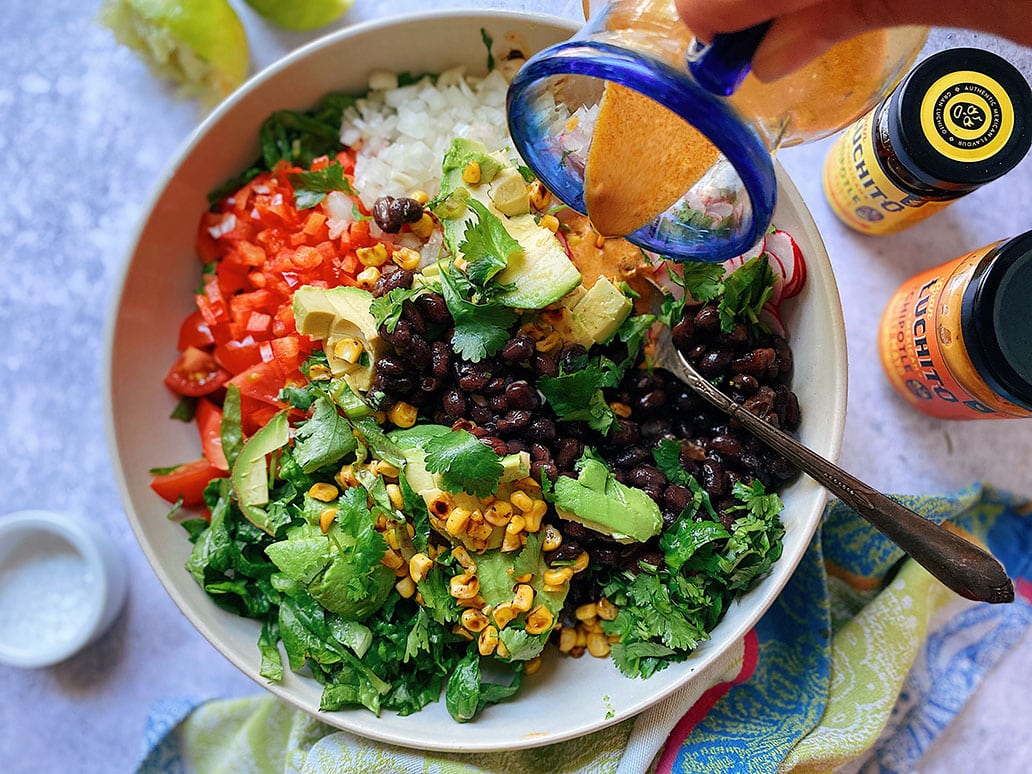 Or some Mexican Bean Salad.
Download Our Free Guide To Enchiladas
Your free Enchilada guide will be emailed to you immediately.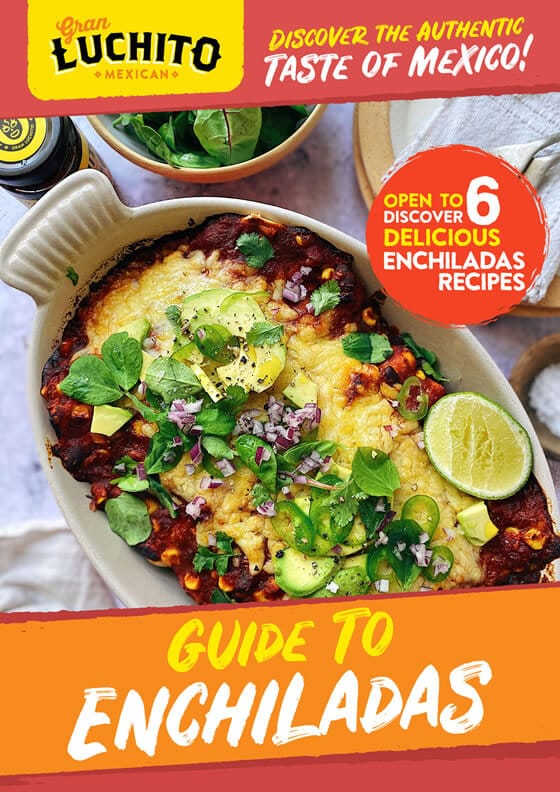 Similar Recipes You Might Like to Try
FAQs
How to freeze cheese enchiladas?
Cover enchiladas tightly with plastic wrap, then aluminum foil. Freeze for up to 3 months. To bake, remove plastic wrap, cover and bake for 30 minutes. Uncover then continue to bake for an additional 5-10 minutes, or until completely cooked through.
How many calories in cheese enchiladas?
There are 228 calories in a portion (100g) of our cheese enchiladas.
Are cheese enchiladas gluten free?
Our cheese enchiladas are not gluten free, no. Although our sauce is gluten free, our wraps are not because they are made from wheat and not corn.
Comments / Questions / Tips

Subscribe now for a free copy of the Gran Luchito e-cookbook filled with delicious, authentic Mexican recipes and join our mailing list for all the latest recipes, news and blog updates.