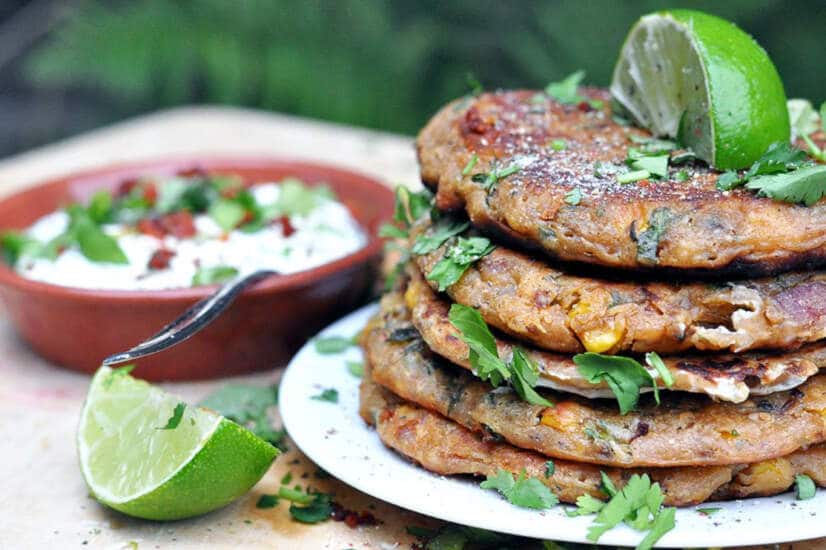 Chorizo and Corn Pancakes
This chorizo and corn pancake recipe is a super-tasty little idea for a weekend breakfast – a savoury take on pancakes that'll set you up perfectly for the weekend.
You could leave out the meat or replace the chorizo with lardons or chopped bacon if you prefer.
If these pancakes look too much for you to stomach for breakfast it would also make an epic brunch dish and for brekky, you could this much healthier avocado toast or pan con tomate.
Prep time

22 mins

Cook time

23 mins

Total time

45 mins

Ideal for

BReakfast

Make it

Mexican

Serves

4-6
How to make it
Cook the chorizo in a hot frying pan for 5 minutes until it begins to go brown.
Lower the heat to medium, add the onion and cook for about 10 minutes until it is nice and soft. Remove a spoonful of the mixture for sprinkling on top later on.
Add the sweetcorn and the chopped coriander stalks. Continue to cook for another 5 minutes.
Meanwhile, mix the flour, Parmesan, baking powder, Gran Luchito Chipotle Paste, lime zest and a little salt. Stir in the egg, milk and oil until it forms a thick batter.
Stir in the fried chorizo. Reserve a few coriander leaves and stir the rest into the pan.
Heat the vegetable oil and butter. Spoon a ladle full of the mixture into the hot pan and cook until golden.
Continue until all the mixture is cooked and you have a stack of pancakes.
Stir the reserved coriander into the crème fraîche. Finely chop the reserved chorizo/onion mix and sprinkle over the crème fraîche. Serve with wedges of lime.
Have you tried these recipes?