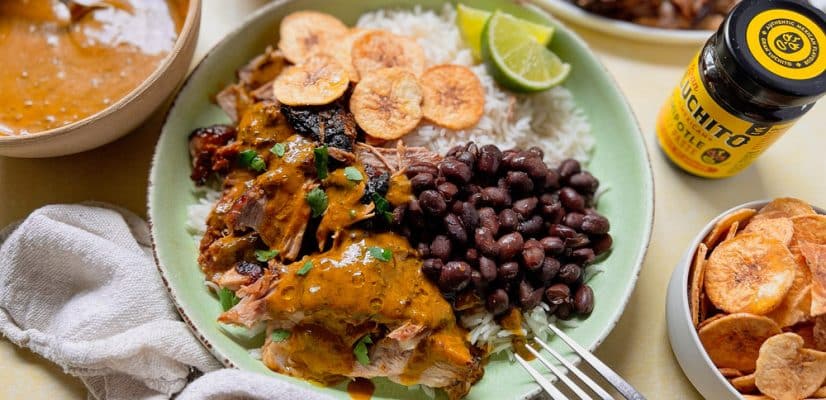 Cuban Pork
Cuban Pork is a fabulous way to prepare pork and we hope that you enjoy our humble rendition of this classic Cuban pork roast. In this recipe we use our pantry essential Gran Luchito Chipotle Paste to give a smoky and spicy twist to this favourite family dish.
In order to make good Cuban pork, we think that the trick is in the marinade, known as "Mojo". The Cuban pork mojo is a mixture of garlic, citrus, and spices. It serves two purposes: 1) to give flavour, and 2) it helps to form a tasty crust on the outside of your meat once it's roasted.
That gorgeous bark on the outside of the pork is what it's all about. Once ready, the Cuban pork is served with a sauce made with the leftover mojo, and drippings that have been reduced a bit to mellow down the flavours. Then we like to add fresh mint and coriander.
The classic sides you can't forget about when making a Cuban pork recipe are steamed white rice, black beans, and last but not least fried plantains or tostones as they are known. We used plantain chips for this version, but if you're looking to serve a more traditional Cuban meal, we recommend trying to make your own fried plantains to serve with the dish. We also recommend serving Cuban pork recipes with some Black Beans and Rice or Lime and Coriander Rice.
Prep time

Cook time

Total time

Ideal for

Dinner

Make it

Mexican

Serves

4-5
Nutrition: Per serving
kcal 155
fat 6.5g
saturates 2.1g
carbs 12.7g
sugars 1.4g
fibre 0.5g
protein 11.8g
salt 0.28g
How to make it
Begin by preparing the mojo. In a blender add the garlic cloves, half of the mint leaves and coriander, the Chipotle Paste, dried oregano, cumin, black peppercorns, salt, lime juice, orange juice, olive oil, and blend smoothly.

Place your pork in a large bowl and add half of the mojo on top. Make sure the meat is well coated onto the mixture, cover with plastic wrap, and refrigerate for at least 2 hours. Reserve the remaining mojo in a covered container in the refrigerator.

After 2 hours, preheat the oven to 180˚C/350˚F. Take the pork out of the fridge and allow it to come to room temperature while your oven is heating up. Prepare a baking dish and place the pork with all the marinade juices on the baking dish. Season the pork with a good pinch of salt and some black pepper sprinkled all around, then cover with a few layers of foil and tightly wrap. Bake in the oven for 2 hours.

After 2 hours take the pork out of the oven and remove the foil. Put the temperature up in your oven to 200˚C/390˚F. Get the reserved fresh mojo out of the fridge and add 1/4 cup of it onto the pork with the tray juices and brush your meat. Place the meat back into the oven for 15 minutes, just enough to crisp up the outside of your pork. You can baste it with the tray juices halfway through as the oven will be very hot.

Once ready, remove your pork from the oven and let it rest for 6 to 7 minutes before cutting. In the meantime, reheat the Cantina Beans in a small saucepan. Also add the remaining mojo to a separate saucepan and bring to a simmer. Add some of the drippings from the roast pork (a few tablespoons is enough), and let it reduce slightly until it's a slightly thicker consistency. Remove it from the heat and add the remaining roughly chopped coriander and mint leaves.

Cut your pork with a sharp knife and get ready to serve. The way we like to serve it is with warm steamed white rice, a spoonful or two of the warm Cantina Beans, a few slices of pork, and a nice amount of mojo sauce on top, or on the side ready to dip into the meat. We added the plantain chips on top for that last perfect touch. Enjoy!
What To Serve With Cuban Pork
Serve it with a portion of this Black Beans and Rice recipe.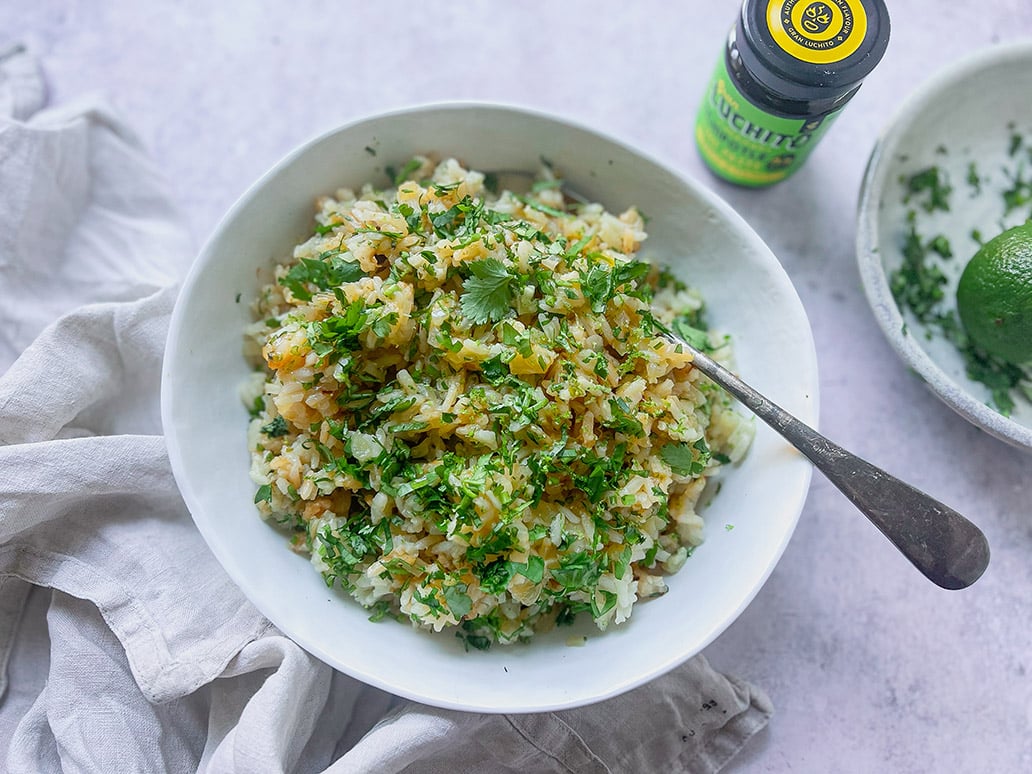 Or some Lime and Coriander Rice.
Download Our Free Guide To Mexican Classics
Your free guide will be emailed to you immediately.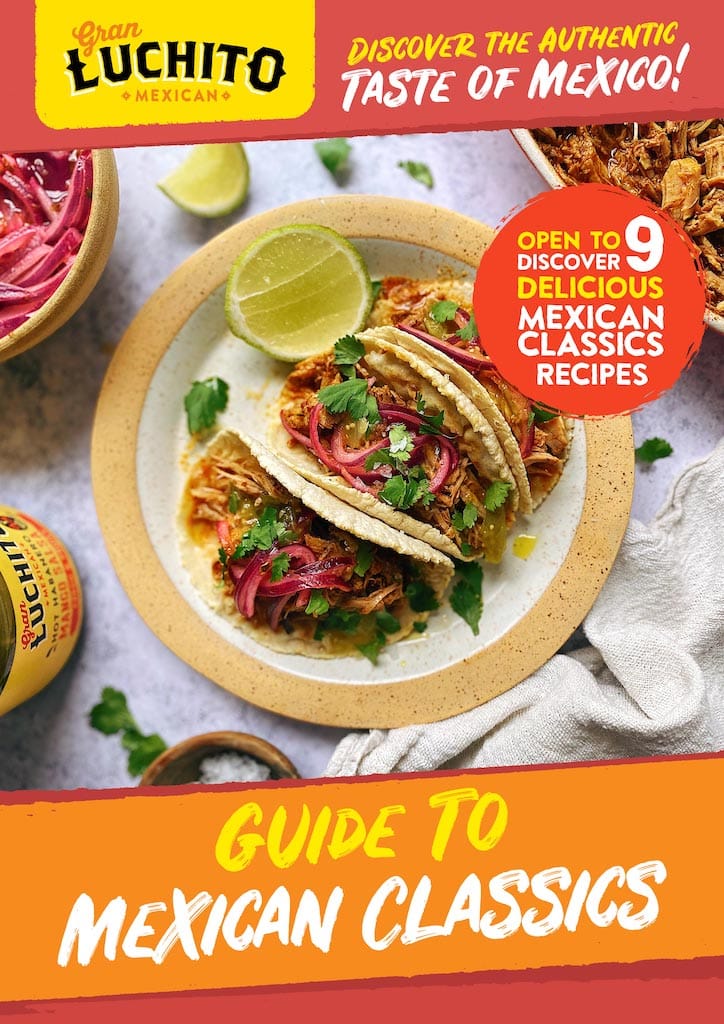 Similar Recipes You Might Like to Try
FAQs
Why is it Cuban pork?
What makes this pork roast Cuban style is the mojo sauce which is made with the juice of sour oranges, garlic, oregano, cumin, and olive oil. In order to get the citrus flavour as sour as possible (because it's hard to find sour oranges), we have used some lime juice along with orange juice.
How many calories are in Cuban pork?
This dish contains 155 calories per 100g serving.
What to serve with Cuban pork?
The best side dishes to serve with Cuban pork are black beans, lime and coriander rice, plantains, creamy coleslaw, and soft flour tortillas to make tacos if you like!
Comments / Questions / Tips

Subscribe now for a free copy of the Gran Luchito e-cookbook filled with delicious, authentic Mexican recipes and join our mailing list for all the latest recipes, news and blog updates.