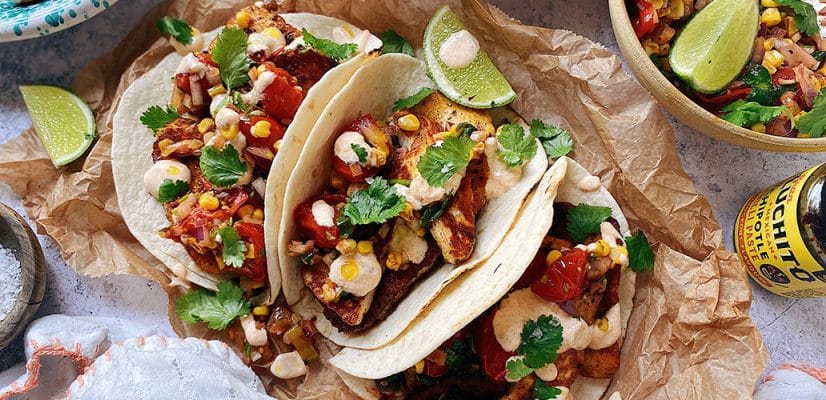 Halloumi Tacos
For the halloumi lovers out there or perhaps for the less familiar with it, halloumi is a semi-hard cheese made of sheep's milk. It has a high melting point which means that it can easily be fried or grilled, and this is what makes it very popular as a meat substitute.
For those reasons or perhaps just because halloumi tastes pretty good, we think that this halloumi taco recipe is a must-have in your repertoire. It's perfect for vegetarians but also meat-eaters love it too!
A very simple way to season your halloumi before pan-frying is to add Gran Luchito Smoky Chipotle Fajita & Taco Mix or Gran Luchito Garlic and Guajillo Fajita & Taco Mix. This creates a crust of flavour when the halloumi is pan-fried over a hot pan.
We like to serve halloumi tacos with a corn tomato relish and some dollops of homemade Chipotle Crema.
Prep time

15 mins

Cook time

25 mins

Total time

40 mins

Ideal for

Dinner

Make it

Mexican

Serves

4
How to make it
Begin by preparing the tomato corn relish. Heat up a frying pan with olive oil, add the spring onions, cherry tomatoes, corn and

Gran Luchito Chipotle Paste

, stir and let the tomatoes get soft and the corn to cook through. Simply season with a pinch of salt and freshly ground black pepper. Once ready remove from the heat.

In a bowl add the corn-tomato mixture, the finely diced red onion, the coriander, lime juice and extra virgin olive oil. Season with salt and pepper, mix with a spoon and reserve your relish.

Make a quick chipotle crema, by mixing all of the ingredients in a bowl and whisking until smooth. Season with salt and pepper, then reserve.

Now for your halloumi. You need to prepare a non-stick pan with a drizzle of olive oil. Coat your halloumi pieces with 1 tablespoon of olive oil and the

Gran Luchito Smoky Chipotle Fajita and Taco Mix

and cook them over the hot pan. Do it in batches to avoid overcrowding the pan. 

Once they get a lovely golden brown colour on one side, flip them over and let the other side get a bit of colour. When they are ready, remove them from the pan and cook the rest of the halloumi.

Time to serve your tacos. Warm up the Gran Luchito Soft Taco Wraps over a hot pan. Serve with pieces of pan-fried halloumi, and top with the tomato corn relish. Drizzle a good amount of chipotle crema on top, and enjoy!
What To Serve With Halloumi Tacos
These halloumi tacos would go really well with a side of:
Download Our Free Guide To Tacos
Your free guide will be emailed to you immediately.
Similar Recipes You Might Like to Try
FAQs
What is halloumi cheese?
Halloumi is a semi-hard, unripened cheese made from a mixture of goat's and sheep's milk, and sometimes also cow's milk. It has a high melting point and so can easily be fried or grilled. This property makes it a popular meat substitute. It's country of origin is Cyprus.
Where to buy halloumi cheese?
You can buy halloumi from your local supermarket and most food shops.
Is halloumi healthy?
Nutritionally, halloumi is an excellent source of calcium, providing 70% of the adult recommended daily allowance in one portion. Halloumi also contains zinc, selenium, magnesium, vitamin A and many of the B vitamins. However, it is also high in sodium, saturated fat, and calories. It's therefore advised to eat it in small quantities and not too often. Once a week is fine, just not every day!
Please let us know what you think of this recipe