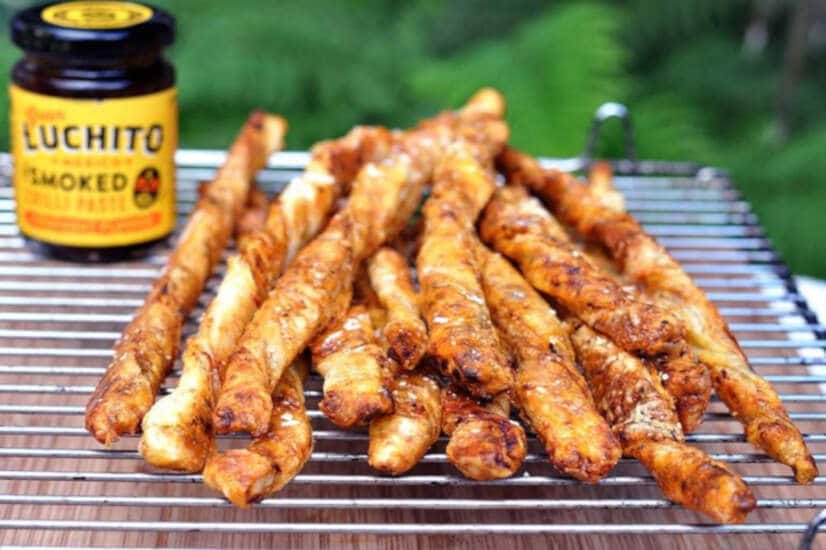 Chipotle Cheese Straw
These chipotle cheese straws are nothing short of epic! Puff pastry rolled with Parmesan and chipotle paste, baked to crispy, golden perfection – the perfect nibble to go with drinks or share while watching a movie.
These never last long when we make them because everyone loves them – and they know just how easy it is to make another batch when they're all gone.
For some other party food ideas check out Ricotta Bruschetta or this chipotle hummus dip.
Prep time

10 mins

Cook time

15 mins

Total time

25 mins

Ideal for

Snack

Make it

Mexican

Serves

6+
How to make it
Preheat the oven to 180°C (350°F, Gas 4) and lightly grease a large baking sheet.
Lightly flour a clean, flat surface.
If you are using pre-rolled pastry, gently peel the puff pastry away from the lining sheet. If using a block, roll it out to about 5mm (¼in) thick.
Spread the chipotle paste evenly over the top surface. Sprinkle with Parmesan cheese and a little pepper.
Fold in half and roll out again to 5mm (¼in) thick, taking care not to break the surface and expose the paste/cheese (if you do, simply re-fold and try again).
Cut into strips about 3cm (1¼in) wide. Holding both ends of the first strip, twist it into a spiral and place on the prepared baking sheet. Continue with the remaining strips.
Brush each strip with beaten egg to cover the exposed surfaces.
Bake for 15–20 minutes until golden and crisp. Transfer to a cooling rack and allow to cool slightly before serving warm.
Have you tried these recipes?