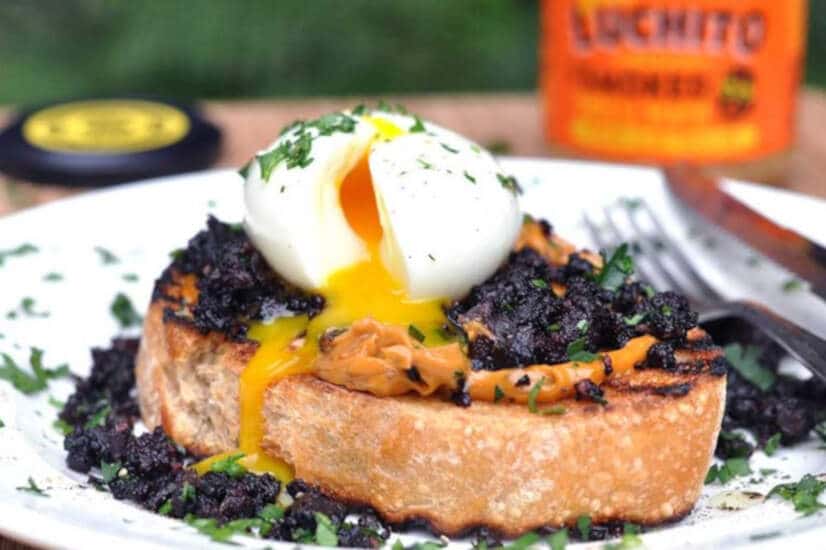 Crispy Black Pudding Breakfast
Even though most of the best black pudding dishes are from Scotland, this black pudding recipe is more authentically Mexican than you might think. Offal and blood sausage is widely eaten in Mexico. Their version of black pudding recipe is called Moronga. So when we were challenged us to come up with some recipe ideas using underappreciated cuts of meat, we made a special request for black pudding recipe as we knew it'd make a great Mexican breakfast.
If you've never tried it, a Black pudding starter is a great way to start the day, especially when it's all crispy and served with toasted fresh bread and perfectly runny eggs. The only thing that can make that better is a little bit of our smoky Chipotle Mayo. Now you're talking!
Prep time

5 mins

Cook time

10 mins

Total time

15 mins

Ideal for

Breakfast

Make it

Mexican

Serves

2
How to make it
Get a frying pan onto a medium/high heat and add a little olive oil.
Remove casing from black pudding and crumble into frying pan. Allow to crisp up before stirring around.
When happy with the texture, remove from heat. It should take about 7 or 8 mins.
Get a saucepan of water boiling. Add the eggs and boil for between 5-6 minutes for soft boiled, runny yolks.
Drain eggs and run under cold water until cool enough to handle. Carefully peel shell.
Toast bread and spread over a little Gran Luchito Chipotle Mayo.
Sprinkle over the crispy black pudding and top with an egg.
Season and enjoy! your black pudding starter
Have you tried these recipes?