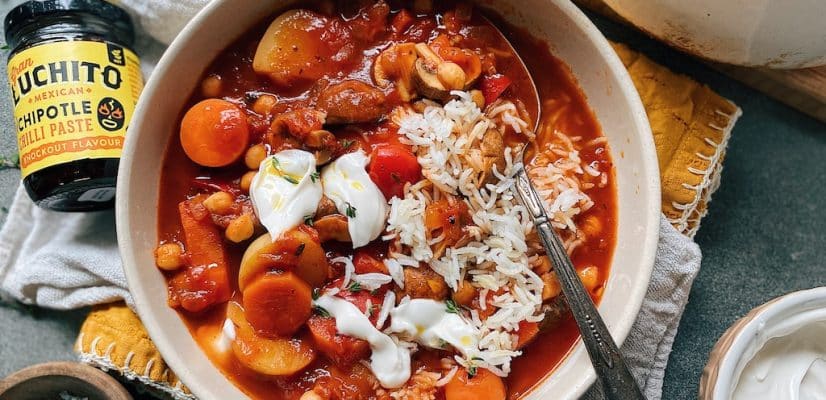 Vegan Mexican Stew
There is nothing more comforting than a big bowl of a warm and hearty stew on a cold winter day. Perhaps we would normally associate a stew with meat, but our Vegan Mexican Stew is a plant-based option that carries all the flavour without having to use any meat. It's all about building flavours, using aromatics and good seasoning.
Our Gran Luchito Chipotle Paste is a brilliant ingredient to add to your soups or stews; it not only adds a kick to your meals but it is also packed with loads of flavour in itself.
We cannot recommend enough to always have a jar of Gran Luchito Chipotle Paste in your kitchen cupboard, It will become your favourite cooking ingredients. Whether you use it to add a kick to a dressing,  depth of flavour for sauces or soups, or as a rub for meat or vegetables before roasting, it's always a good idea to add a bit of Gran Luchito Mexican magic.
Now back to this delicious vegan stew, try using lentils, chickpeas, beans or vegan sausages to make your stew more substantial, adapt the recipe to what you may have in your fridge and pantry.
The same goes for vegetables: courgette, aubergine, sweet potatoes, swede, butternut squash, etc. Just make sure to use a good amount and variety of veggies to bring even more taste and texture to your stew.
This Spicy Vegan Stew is a meal all own its own but a handful of Gran Luchito Lightly Salted Tortilla Chips would go nicely on the side to use for dunking purposes! Mexican food works well as a vegan option because many vegan Mexican recipes are full of fresh veggies, zesty flavour and spices.
Prep time

15 mins

Cook time

50 mins

Total time

65 mins

Ideal for

Dinner

Make it

Mexican

Serves

4
How to make it
Finely dice your onions and shallot, mince the garlic. Heat the oil into a large saucepan and fry the onion, shallots and garlic slowly.

In the meantime wash and peel the carrots, cut them into bite size chunks, cut your potatoes in half (no peeling necessary), dice your red pepper and cut the chestnut mushrooms in half.
Add the red peppers, carrots and potatoes into the pan with the onions, stir and add the Gran Luchito Chipotle Paste and tomato paste, throw in a couple of bay leaves and a few sprigs of thyme. Stir and cook for 8-10 minutes.
Then add the mushrooms, chopped tomatoes, Gran Luchito Smoky Chipotle Fajita & Taco Mix, tamari sauce, sugar and vegetable stock, stir, bring to a boil and then simmer on a medium heat with a lid on for 45-50 minutes until your vegetables are cooked through.

At the end pour in the cooked chickpeas and simmer for a further 8 minutes, taste and adjust seasoning if necessary.
Similar Recipes You Might Like to Try
Please let us know what you think of this recipe