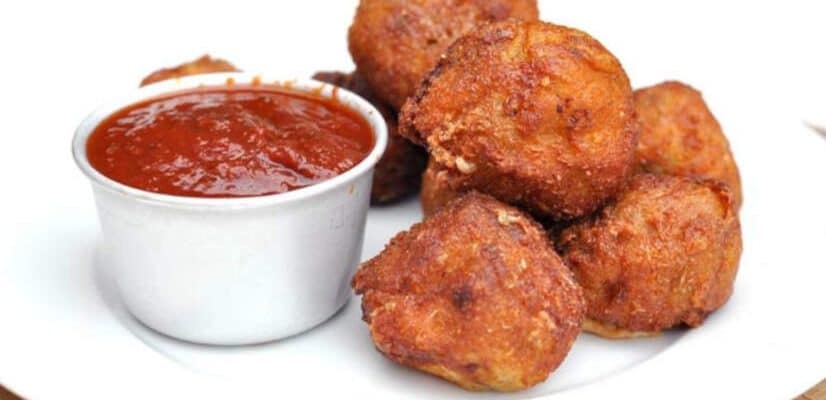 Cheese Stuffed Meatballs
We asked ourselves, how can you improve our Gran Luchito Mexican Meatballs recipe? We then came up with the genius idea of cheesy meatballs! We stuff them with Mozzarella, crust them with Parmesan cheese…and deep fry them. This cheese stuffed meatballs recipe could hardly be described as healthy, but we assure you they are mega tasty and make a perfect snack!
Deep fried meatballs with cheese anyone?
Prep time

Cook time

Total time

Ideal for

Snack or side

Make it

Mexican

Serves

6
Nutrition: Per serving
kcal 218
fat 15g
saturates 6.4g
carbs 6.4g
sugars 2.3g
fibre 0.7g
protein 15.2g
salt 0.82g
How to make it
Firstly, combine the breadcrumbs with the milk and stir. Leave to soak in while you prepare the other ingredients.
Cook pancetta until cooked through. Place on a chopping board and chop finely before returning to the pan. Lower the heat.
Add the onion and garlic to a food processor (alternatively just grate them).
Add onion and garlic to the pancetta, along with oregano and Gran Luchito Chipotle Paste. Stir and cook for about 7-8 mins.
Add a splash of water, stir and continue to cook until evaporated (5-6 mins). Leave to cool slightly.
In a large bowl, combine the pancetta mixture with the soaked breadcrumbs, the minced beef and pork, parsley and a good pinch of salt and pepper.
Mix well (with your hands preferably) and form into small balls (approx. 2.5 cm / 1 inch in diameter).
Next chop the mozzarella into small 2.5 cm / 1 inch cubes. Flatten each ball in your palm and add a piece of the cheese before wrapping up again and sealing as best as you can.
Refrigerate for at least half an hour.
Meanwhile, beat the eggs and finely grate the parmesan and have them ready in separate bowls.
Dip each ball into the egg, then the parmesan. Repeat.
Heat vegetable oil to approximately 160C / 320F (or use a deep-fryer if you've got one).
Carefully lower the balls into the oil with a slotted spoon and remove once golden and crispy (this will take a few minutes).
Drain on kitchen roll.
Serve with Gran Luchito Chipotle Ketchup
Similar Recipes You Might Like to Try
Comments / Questions / Tips