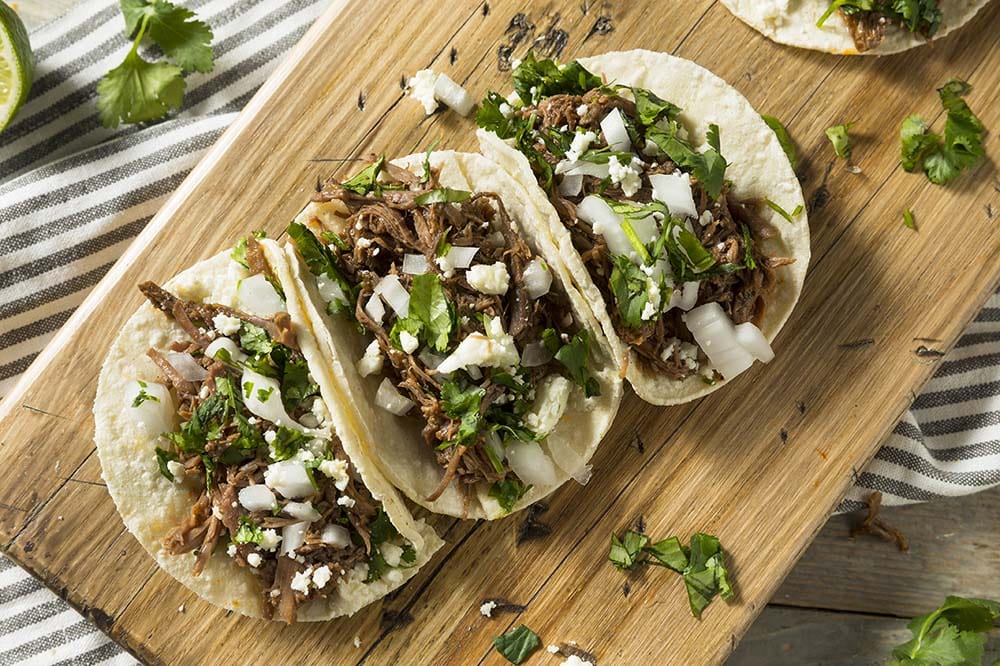 Slow Cooker Barbacoa Beef
Our Slow Cooker Barbacoa Beef is yet another reason to love the slow cooker! It cooks beef to perfection – so tender it falls apart and full of flavour.
With a few minutes of prep you can completely transform a beef brisket joint into a melt in your mouth deliciousness with this recipe. Serve the Barbacoa Beef on tortilla wraps with a side of Mexican Corn and a large dollop of guacamole.
If you enjoyed this slow cooker barbacoa beef recipe be sure to check out our other Mexican slow cooker recipes.
Prep time

10 mins

Cook time

8 hours

Total time

8 hours, 10 mins

Ideal for

Entertaining

Make it

Mexican

Serves

8
How to make it
Heat oil in a frying pan or removable slow cooker insert. Generously season the beef brisket with Garlic and Guajillo Fajita and Taco Mix and brown on all sides (you may need to cut the brisket into large chunks depending on the size of the joint).
Place quartered onion in bottom of slow cooker with brisket on top, add beef stock, Chipotle Paste, garlic and give it a good stir. Cook on low for 8 hours, turning every 2 hours, until meat shreds easily with two forks.
Serve in tacos, burritos or simply with rice and beans.
Similar Recipes You Might Like to Try
Please let us know what you think of this recipe