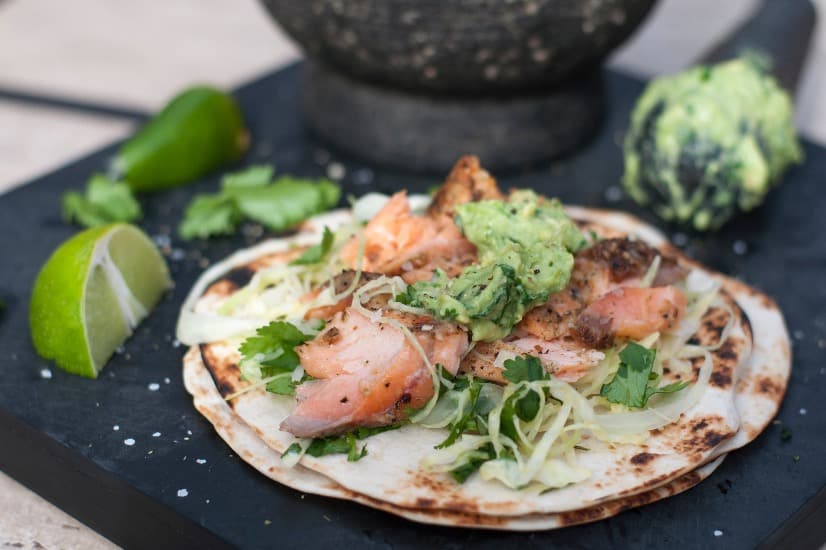 Salmon Tacos
Home | Recipes | Mexican Classics | Quick & Easy | Tacos
These deliciously moorish Salmon Tacos are a new way to liven up your weeknight fish dinners. Combining the herby pan-fried salmon with zesty lime shredded cabbage and Guacamole makes for a perfect spring-time dish.
Our Habanero & Lime Fajita & Taco Mix is our star pupil here. Cover the salmon in it before cooking to intensify the flavour and make it Mexican! Finish off by piling the ingredients into Soft Wheat Soft Taco Wraps, and topping with some Serrano Chillies!
We recommend having some of our Lightly Salted Tortilla Chips on hand to dip into the guacamole! Our Courgette Salad is a super, fresh tasting accompaniment with the salmon as is our Punchy Panzanella Salad.
Prep time

10

Cook time

35

Total time

45

Ideal for

Mexican

Make it

Mexican

Serves

2
How to make it
45 mins before you want to eat, cover the salmon with Gran Luchito Habanero & Lime Fajita & Taco Mix and leave for 30 mins. The salt in the spice mix will intensify the flavour of the salmon and keep it from drying out when cooking.
At the same time, add the shredded cabbage to a bowl and add 1tsp salt and a good squeeze of fresh lime juice (1tbsp). Mix and leave aside. This will bring out some of the water, soften the cabbage and give it a much nicer flavour & texture.
Heat a non-stick pan over a high heat. When hot, reduce heat to medium and add the salmon. Cook until the spice crust browns then flip over. 3/4 minutes on each side should be enough.
Turn down the heat to low/medium and add a generous knob of butter. Gently cook for another few minutes on each side, then turn off the heat and leave to rest in the pan while you prep the other items.
In a pestle & mortar, bash the spring onion and some roughly chopped coriander stalks with a little coarse salt then add the avocado flesh. Bash this until you have a smooth-ish guacamole. Add a good squeeze of lime juice and some roughly chopped coriander leaves, mix well and taste. Adjust lime & salt as necessary.
Warm some Gran Luchito Soft Wheat Street Taco Tortilla Wraps in the microwave for 30 secs, or throw them on the naked flies of your hob for a few seconds to blacken the edges.
Using your hands or a fork, break the salmon into flakes. Top each tortilla with a little shredded cabbage, salmon flakes and guacamole. You could also top with Gran Luchito Serrano Chillies. Serve with fresh lime wedges & roughly chopped coriander.
Have you tried these recipes?
Inline Feedbacks
View all comments