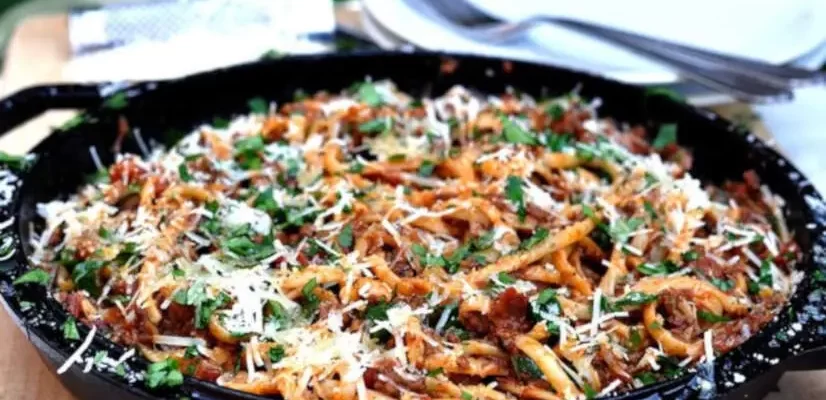 Spicy Spaghetti Bolognese
For a dish that is made as often as spicy spaghetti bolognese, it seemed like a great idea to try adding our Gran Luchito Chipotle Paste. The result was fantastic. Chipotle spiced spaghetti bolognese is now a firm family favourite and we can't really imagine spag bol any other way!
Serve the chipotle spicy spaghetti bolognese with either this goats cheese and tomato salad.

---
---
Prep time

Cook time

Total time

Ideal for

Dinner

Make it

Mexican

Serves

4
Nutrition: Per serving
kcal 121
fat 4.7g
saturates 1.8g
carbs 12.9g
sugars 1.9g
fibre 1.4g
protein 6.3g
salt 0.31g
How to make it
Heat a little olive oil in a large pan over a low heat. Add the bacon and cook for 15 minutes, stirring occasionally. Add the onion and celery and leave to cook gently for 10 minutes.
Next add the carrot, garlic and Gran Luchito Chipotle Chilli Paste. Stir well and cook for another 10 minutes.
Add the beef mince and stir into the mix. Turn the heat up a little for about 15 minutes to brown the beef.
Add the milk and bring to a simmer, then cook for 5 minutes until it is rich and thick.
Add the canned and fresh tomatoes, tomato purée, wine, bay leaf, sugar, nutmeg and a good pinch of salt and pepper. Stir, put a lid over three-quarters of the pan, reduce the heat to low and cook for an hour, or 2–3 hours if you have time, stirring occasionally. You're looking to achieve a nice thick consistency with a rich flavour (keep tasting as it cooks and adjust seasoning to taste).
Ten minutes before serving, cook the pasta in boiling salted water, saving a few tablespoons of the cooking water. Add the retained pasta water to the ragu, stir and mix with the drained pasta.
Simmer to reach your preferred consistency. Stir in most of the parsley and basil, then finish with the grated Parmesan, a drizzle of olive oil and some more parsley.
Similar Recipes You Might Like to Try
Comments / Questions / Tips

Subscribe now for a free copy of the Gran Luchito e-cookbook filled with delicious, authentic Mexican recipes and join our mailing list for all the latest recipes, news and blog updates.