Chipotle Margarita
This Chipotle Margarita takes the classic margarita up a notch. With a touch of smoky Gran Luchito Chipotle Paste balanced with zesty orange and lime, it's certainly one special Mexican cocktail to try!
For all you mezcal lovers out there, try swapping tequila for mezcal in this margarita recipe to make a beautifully smoky mezcalira. It's the perfect Mexican drink to whip up after a long day at work when you're ready to put your feet up and chill. But also equally as great to have when welcoming guests into your home, surprising them with unique Mexican cocktails.
These smoky margaritas are especially great to have on a hot summer's day, served with a plate of Ceviche and some Gran Luchito Lightly Salted Tortilla Chips, followed by some tasty Baja Fish Tacos.
Prep time

Cook time

Total time

Ideal for

Party

Make it

Mexican

Serves

1
Nutrition: Per serving
kcal 204
fat 0g
saturates 0g
carbs 20.2g
sugars 20g
fibre 0g
protein 0.2g
salt 0.16g
How to make it
Run a wedge of lime around the rim of glass, then dip the rim in salt to coat it.
In a cocktail shaker with a bit of ice, muddle the orange slices with Chipotle Paste and lime juice.
Add more

ice, the orange liqueur, the tequila, the simple syrup and shake well.

Add fres

h ice to your glass with the salt and strain over the top. Squeeze in a wedge of fresh lime, and serve. If you prefer a martini glass, make sure to chill the glass first and then strain the mixture into it.
What To Serve With Margaritas
Margaritas were made for Mexican food. Seriously, what goes better with a classic Margarita than Chips and Salsa or some freshly made Homemade Guacamole? Or take it up a notch and pair your margarita with some delicious Nachos, Ceviche or Baja Fish Tacos.
Download Our Free Guide To Mexican Classics
Your free guide will be emailed to you immediately.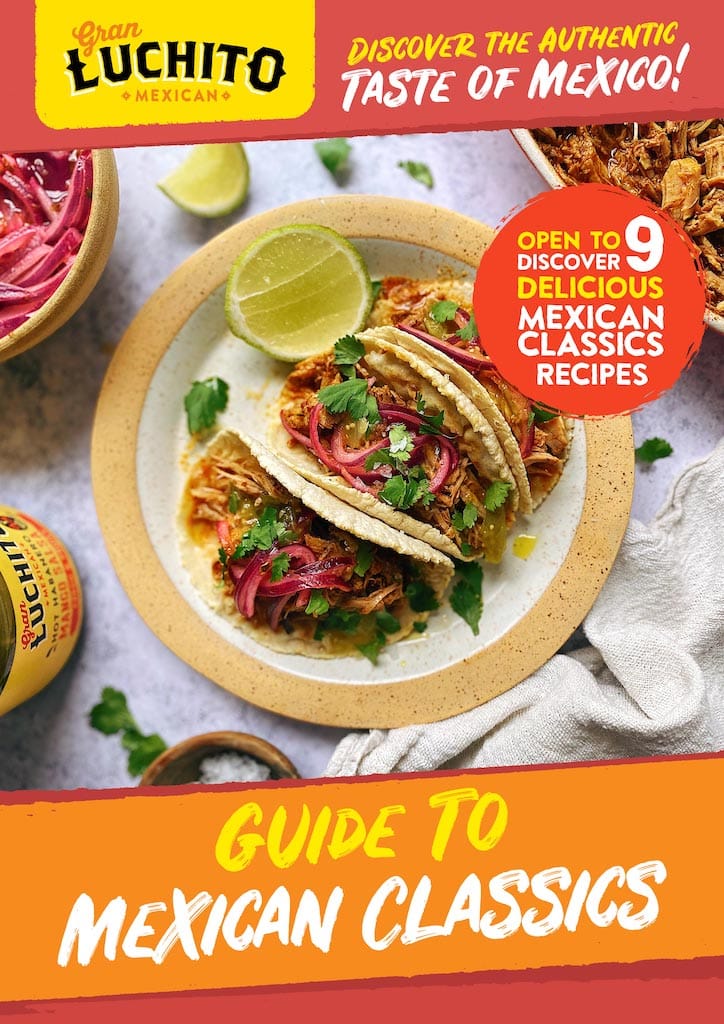 Similar Recipes You Might Like to Try
FAQs
What kind of salt do you use for margaritas?
Steer clear of table (iodized) salt, which is much too salty for margaritas. Opt for coarse, large-granule salt that won't overwhelm the drink's sweet-and-sour flavour balance. Sea Salt is perfect!
What is the secret for a great margarita?
We think the secret is freshly squeezed lime juice (not the bottled stuff), which makes a cleaner tasting, more refreshing margarita.
How many calories in a chipotle margarita?
There are 204 Calories in our Chipotle Margarita.
Comments / Questions / Tips

Subscribe now for a free copy of the Gran Luchito e-cookbook filled with delicious, authentic Mexican recipes and join our mailing list for all the latest recipes, news and blog updates.