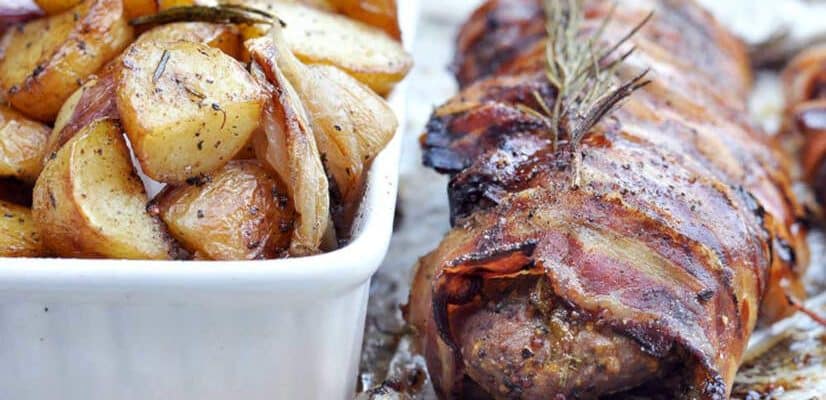 Pork Loin Wrapped In Pancetta and Chipotle Honey Mustard
Pork loin, also known as pork fillet, is a great cut to work with. Its long, sausage-like shape lends itself perfectly to roasting whole and slicing into succulent discs of meat. We wrapped this pork loin in pancetta to protect it from direct heat, with a layer of delicious marinade between the meats to keep it moist.
The pork loin  is great with our crisply oven-roast chips
Prep time

Cook time

Total time

Ideal for

Meat

Make it

Mexican

Serves

4
Nutrition: Per serving
kcal 261
fat 19g
saturates 6.4g
carbs 1.1g
sugars 0.9g
fibre 0.1g
protein 21.1g
salt 2.6g
How to make it
In a pestle and mortar, smash together the leaves of about 4 rosemary sprigs, the peeled garlic cloves and about 1 teaspoon of coarse salt until you have a paste.
Transfer to a mixing bowl with the oil,  Gran Luchito Chipotle Honey, mustard, lime juice and pepper. Stir well.
Place the pork tenderloin in a large bowl and pour the marinade over the top. Rub it all over the meat and leave for at least a few hours.
Preheat the oven to 200°C / 400°F / Gas 6.
Line up the pancetta strips, slightly overlapping one another, on a piece of baking paper or cling film.
Place the pork at the bottom of the pancetta and spoon the remaining marinade over the pancetta. Carefully roll up the pancetta (it doesn't need to be perfect), aiming to leave the seam underneath the pork so the top is protected from the direct heat.
Drizzle over a little olive oil, add a few sprigs of rosemary and a sprinkle of salt and pepper.
Roast for 30 minutes, or until the pancetta is golden, being careful not to burn it. Cover in foil and leave to rest for 10 minutes before slicing.
Serve with roast potatoes or our crisp oven chips
Similar Recipes You Might Like to Try
Comments / Questions / Tips

Subscribe now for a free copy of the Gran Luchito e-cookbook filled with delicious, authentic Mexican recipes and join our mailing list for all the latest recipes, news and blog updates.