Spicy Kedgeree
We don't see spicy kedgeree on menus anywhere near enough, it's so good. Traditionally kedgeree was served as a breakfast dish, but that was largely due to not being able to keep fish fresh until later in the day. Whilst it makes a substantial way to start the day, we think it works just as well for brunch, lunch or even a dinner dish.
If you want to mix this spicy kedgeree up a little, you could try adding a side of bacon avocado fries!
Prep time

Cook time

Total time

Ideal for

Side

Make it

Mexican

Serves

4
Nutrition: Per serving
kcal 91
fat 3.6g
saturates 1.5g
carbs 4.7g
sugars 0.8g
fibre 0.6g
protein 10.4g
salt 0.21g
How to make it
Put the rice, star anise, ½ cinnamon stick and a pinch of salt in a pan, cover with cold water and bring quickly to the boil. Cover and simmer for 8–10 minutes, then keep the lid on until all the water has been absorbed.
Add the eggs to a pan of boiling water and boil for 6 ½ minutes. Drain, then cover in cold water. Leave to cool before peeling and cutting into quarters.
Bring a pan of water to the boil and add the haddock so it's completely covered. Poach gently for 10 minutes. Remove any skin and bones, then gently flake the fish.
Add the coriander, cumin seeds, mustard seeds, the remaining cinnamon stick, the cardamom and peppercorns to a dry pan over medium heat. Toast for 3 minutes, stirring regularly until they begin releasing an aroma. Use a food processor to blitz to a fine powder, then return to the pan over low heat.
Add the butter, Gran Luchito Chipotle Paste, onion and ginger. Stir and cook for 15 minutes until the onion has softened. Add the garlic and cook for a further 5 minutes.
Add the lemon juice, stir, then mix into the rice. Taste and adjust the seasoning if necessary. Gently stir in the egg, fish and half the coriander. Serve with lemon wedges and some more coriander sprinkled over the top.
Download Our Free Guide To Mexican Breakfast
Your free guide will be emailed to you immediately.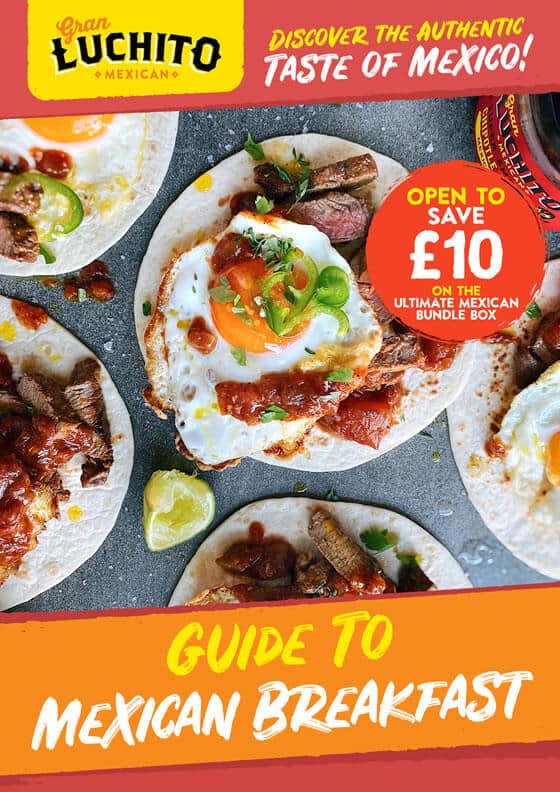 Similar Recipes You Might Like to Try
Comments / Questions / Tips

Subscribe now for a free copy of the Gran Luchito e-cookbook filled with delicious, authentic Mexican recipes and join our mailing list for all the latest recipes, news and blog updates.