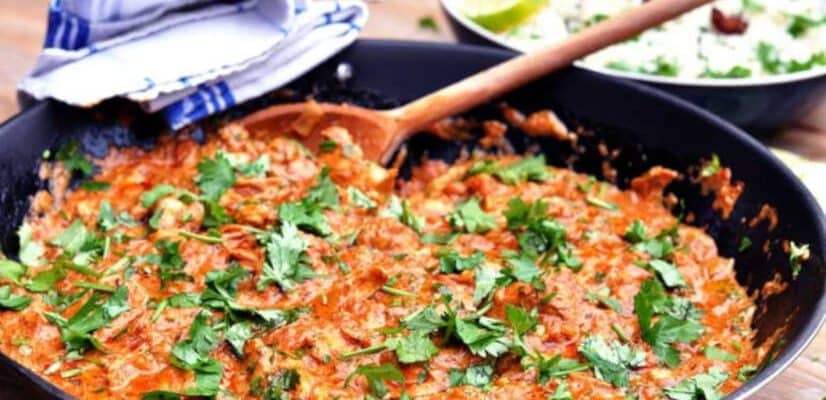 Easy Butter Chicken Curry
This easy butter chicken curry is a wonderful way to use up a leftover roast chicken for a rich and beautifully tasty midweek meal that'll have everyone asking for more.
If you're a fan of rich dishes like this Indian butter chicken, check out our Mexican Fusion recipe page for more great ideas and inspiration. Our Gran Luchito Chipotle Paste would work just as well in other curries such as chicken tikka masala.
Prep time

Cook time

Total time

Ideal for

Dinner

Make it

Mexican

Serves

4
Nutrition: Per serving
kcal 165
fat 9.6g
saturates 4.3g
carbs 9.1g
sugars 1.5g
fibre 0.7g
protein 10.2g
salt 0.23g
How to make it
 Heat the vegetable oil in a large pan over a low–medium heat. Add the onion, stir and fry for about 15 minutes until completely softened, but not browned.
Reduce the heat slightly, add the garlic and fry for about 3 minutes, stirring regularly to avoid burning.
Add the Gran Luchito Chipotle Chilli Paste, lemon juice, garam masala, cinnamon, salt and pepper. Stir well and cook for 5 minutes.
Add the chopped tomatoes, the tomato purée and about 1 ½ tablespoons of water. Stir and cook for 15 minutes over a medium heat.
Reduce the heat, then stir in the cream and the butter until melted.
Add the leftover chicken (chopped or ripped into bitesized chunks).
Stir well and adjust the seasoning if needed. Continue to cook over a low–medium heat for about 5–10 minutes, or until the chicken is hot throughout (you don't really want to cook it too much as it will dry out quickly).
Stir in some coriander leaves and serve with rice.
Similar Recipes You Might Like to Try
Comments / Questions / Tips

Subscribe now for a free copy of the Gran Luchito e-cookbook filled with delicious, authentic Mexican recipes and join our mailing list for all the latest recipes, news and blog updates.