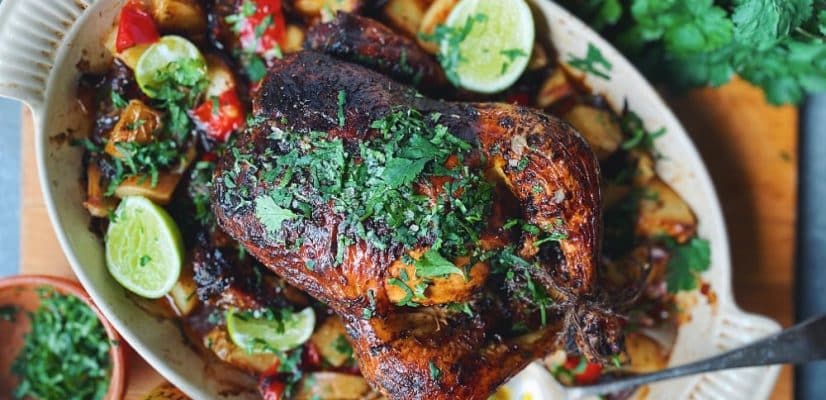 Mexican Roast Chicken Recipe
This Mexican Roast Chicken recipe is a great take on a classic dish, and it's all the tastier for it.
We mixed our Gran Luchito Chipotle Paste with butter and spread it all over the whole chicken. We then roasted it on a bed of lovely vegetables and finished it with chunks of fresh lime and coriander leaves. Simply awesome!
It's so tasty you probably won't have any left, but if you do you can check out these recipes for leftover chicken.
Serve the Mexican style whole roasted chicken with either this Chipotle Potato Gratin or some Mexican Cauliflower Cheese.
Prep time

25 mins

Cook time

1 hr, 20 mins

Total time

1 hr, 45 mins

Ideal for

Dinner

Make it

Mexican

Serves

4
How to make it
Preheat the oven to 200°C / 390°F / Gas 6.
Mix the butter with the Gran Luchito Chipotle Paste.
Put the potatoes, onions, garlic and peppers into a large ovenproof dish and add olive oil, dried oregano and a generous sprinkle of salt and pepper. Mix well.
Using your fingers, carefully open up the gap between the breasts and the skin to make 2 little pockets.
Put half the spicy butter into the pockets, rubbing the remaining butter all over the outside of the chicken. Season well with salt and pepper.
Place chicken on top of the vegetables and place in the oven.
Cook for 1 hour 20 minutes by which point it should be golden brown (this will vary depending on the size of the chicken).
Once cooked, transfer to a plate, cover in foil and leave to rest for 10 minutes.
Make sure vegetables are cooked through by testing a large piece of potato. Return to the oven if not ready.
When the vegetables are tender, scatter the limes amongst them, then sprinkle with plenty of coriander. Put the chicken on top of the vegetables and serve.
 Chef's tip
Baste the chicken as it cooks with the butter and occasionally mix up the vegetables surrounding it to ensure even cooking.
Download Our Free Guide To Mexican Classics
Your free guide will be emailed to you immediately.
Similar Recipes You Might Like to Try
Please let us know what you think of this recipe