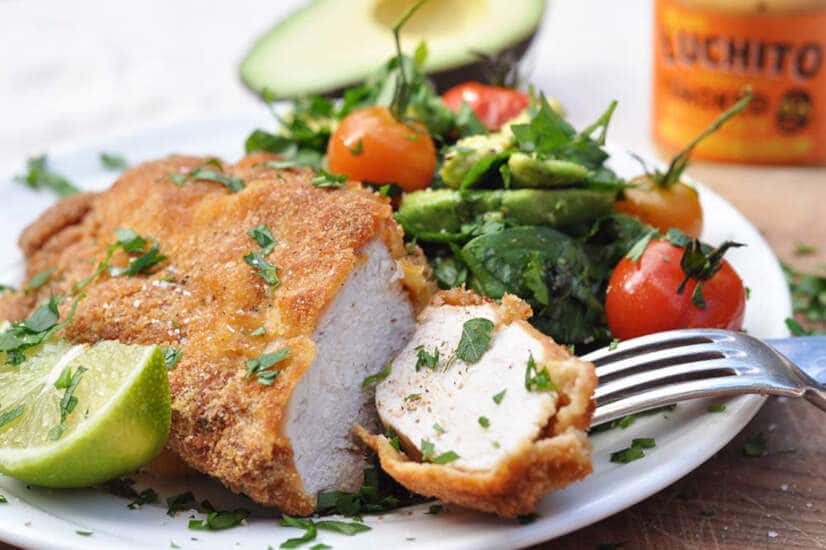 Mexican Breaded Chicken
Our Chipotle Mayo is great for dipping just about anything in. But it's also a great little ingredient to cook with, providing a lovely subtle smoky creamy chilli flavour. This quick Mexican breaded chicken recipe uses the mayo to help coat a chicken breast in breadcrumbs for a quick and delicious mid-week meal. You could do the same thing with strips of chicken!
Try serving the Mexican breaded chicken with homemade chips or our homemade potato salad recipe.
Prep time

30 mins

Cook time

30 mins

Total time

1 hour

Ideal for

Chicken

Make it

Mexican

Serves

2
How to make it
Pre-heat the oven to 180C.
Prepare 3 stages to bread the chicken: in one bowl add the Chipotle Mayo. Beat an egg in a second bowl. Add the breadcrumbs to a third bowl/plate.
This can be a little messy but it's worth it. Follow this order to cover the chicken: mayo, breadcrumbs, egg, breadcrumbs (you could also cut the chicken into strips).
In a frying pan over medium heat, add a little olive oil. When hot, add the chicken breasts and cook until golden. Flip and cook on the other side.
Add chicken to an oven dish (or simply in the same pan if it's oven-proof), cover with foil and leave to cook for 10mins.
Check to see if the chicken is cooked through by cutting into a breast at its thickest point. Return to oven if still pink (if removed slightly under-done, the chicken can be finished by wrapping in the foil and leaving to rest and cook by residual heat for 5-10 mins).
Serve with salad, homemade chips, guacamole or your favourite side.
Similar Recipes You Might Like to Try
Please let us know what you think of this recipe