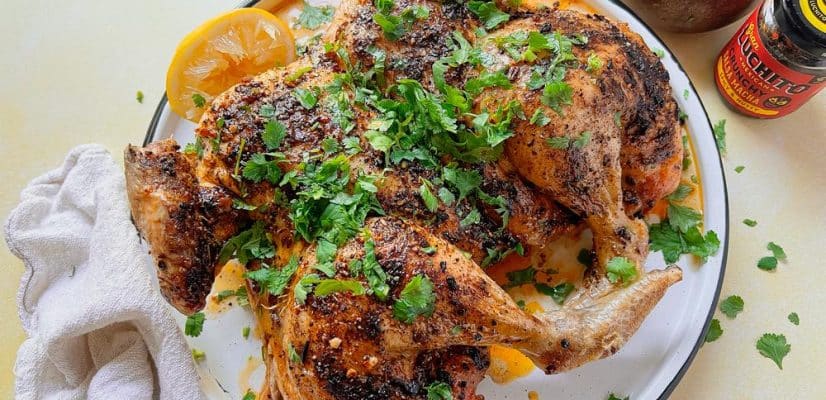 Spatchcock Chicken
Spatchcock or butterfly chicken is a way to prepare chicken. You remove the backbone, then break the breast bone by pressing firmly with both hands against a hard surface, such as a chopping board, and then follow along to flatten your chicken. This ensures that the spatchcock chicken is cooked evenly, and also helps to cook the meat faster and crisp up the chicken skin even more. So if you're going to grill a whole chicken we reckon that this is one of the best ways to do it.
You can find numerous tutorials online on how to spatchcock a chicken, but also you can ask for help at your local butcher or over the counter at a supermarket and they can do this for you.
Once you have your chicken ready, seasoning is very important. For this we use olive oil, Gran Luchito Guajillo Fajita & Taco Mix and a bit of salt. This is all then rubbed onto the skin and inside the crevices of your chicken. This spice blend has everything you need to make your spatchcock chicken recipe super tasty, and we can guarantee that everyone in your family will love it and you'll keep making it over and over!
This spatchcock chicken recipe is easy to adapt, so you can either cook the chicken on a grill for a smoky taste, or do an oven roasted spatchcock chicken as an easy midweek meal.
For the best spatchcock chicken recipe, it's easier to cook it over a gas grill as you can control the temperature better and it ensures that you'll have enough heat during the cooking time. 
If using charcoal, just make sure your spatchcock chicken is cooked through as it may take a bit longer to cook. Begin by cooking your bird on the hottest part, and finish cooking on the lower temperature side. If you have a meat thermometer you can check when the internal temperature of the thickest part of it reaches 70˚C/160˚F, it then means it's done. Equally, if you haven't got a thermometer, prick the thickest part of the chicken with a small knife and when the juices run clear it's a good indication that it's ready.
When doing a spatchcock chicken in the oven, simply place the seasoned chicken in a baking tray at 200˚C/390˚F and let it roast for 40 minutes. 
Prep time

Cook time

Total time

Ideal for

Main Course

Make it

Mexican

Serves

4
Nutrition: Per serving
kcal 232
fat 17g
saturates 4.1g
carbs 7.6g
sugars 0.7g
fibre 0.1g
protein 12.5g
salt 0.49
How to make it
Place your spatchcocked chicken over a tray or chopping board, then pat it dry with some paper towel. Drizzle with the olive oil on both sides, then sprinkle with the

Guajillo Fajita & Spice Mix. Rub the Mexican spice mix all over

with your hands making sure that your chicken is well covered. Finally, sprinkle the salt over the meat side and then reserve.

Preheat your gas grill for 10-15 minutes on high temperature, and once it's hot enough reduce the temperature on one side to medium, creating two heat zones. This is where you will finish cooking your chicken. 

In the meantime in a small bowl add the mayo,

Crunchy Salsa Macha

and lemon juice. Mix with a spoon until it's all integrated into a smooth sauce and reserve.

Once the grill is hot enough, brush the grill with a bit of olive oil. Then on the hottest side place your chicken with the skin side facing down. Let it get a bit charred for 4 to 5 minutes then flip and cook it for a further 5 minutes on the other side. After this, move the whole chicken onto the side where the temperature is lower. Baste it with a bit of olive oil or butter and let it cook with the lid down for a further 30 to 40 minutes.

Make sure to check your chicken from time to time and to baste it with more oil or melted butter until it's done. If you have a meat thermometer you can check when the internal temperature of the thickest part of your chicken reaches 70˚C/160˚F which means it's ready. Equally if you haven't got a thermometer prick the thickest part of the chicken with a small knife and when the juices run clear it's a good indication that it's done.

Once it's ready, serve your spatchcock chicken over a nice platter and squeeze the lemon juice on top. Sprinkle with the coriander and serve with Macha Mayo and warm Soft Tacos on the side. Carve slices of chicken with a sharp knife and make tacos with the juicy chicken and a spoonful of Macha Mayo, seriously delicious!
What To Serve With Spatchcock Chicken
Serve this delicious spatchcock chicken recipe with sides of:
Download Our Free Guide To Mexican Classics
Your free guide will be emailed to you immediately.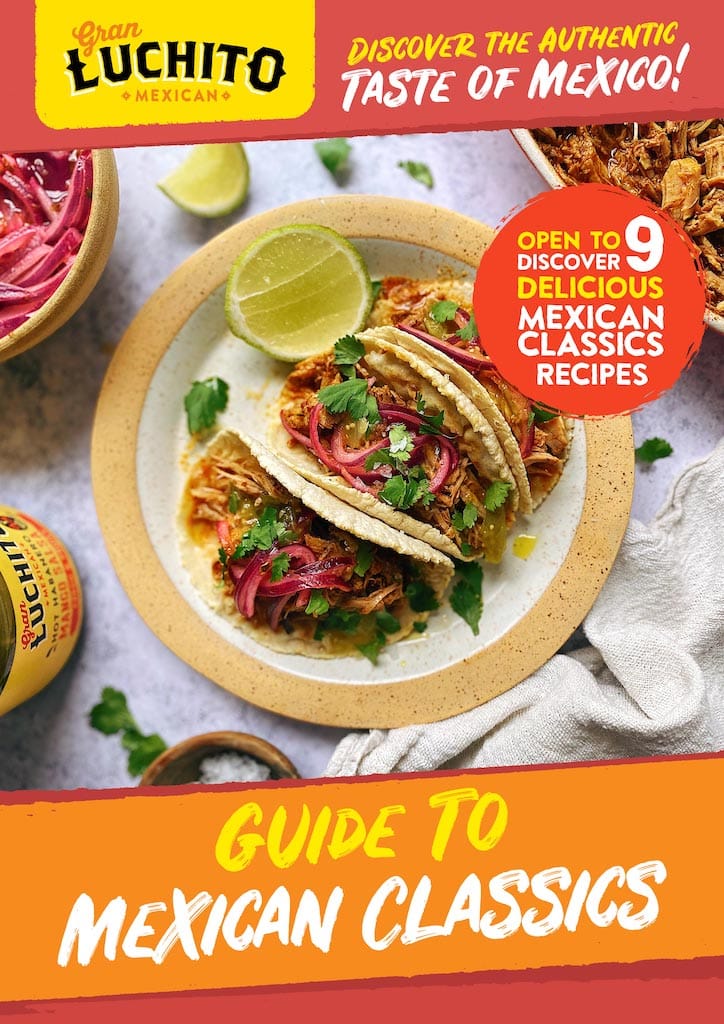 Similar Recipes You Might Like to Try
FAQs
What is spatchcock chicken?
To spatchcock a chicken, or butterfly it, is to remove the backbone, allowing it to be completely opened out and flattened. Doing this reduces the cooking time significantly and allows the whole bird to be cooked in a speedier way in one layer.
How long to cook spatchcock chicken?
On a hot BBQ, cook it (skin side down) for 15-20 mins until nicely charred. Flip the chicken over and continue cooking for another 5-15 mins until cooked through. If you're cooking it in the oven heat it to 200C/180C fan/gas 6 and cook it for 35-40 mins on a baking tray. To char the skin, grill for a further 5-10 mins.
How to carve a spatchcock chicken?
First, separate the leg quarters from the breast, and then separate the leg quarters from the thighs. Next, locate where the wing bones meet the breast meat and separate. Finally remove the breasts. There are lots of videos on YouTube that show you how to do this online.
Comments / Questions / Tips

Subscribe now for a free copy of the Gran Luchito e-cookbook filled with delicious, authentic Mexican recipes and join our mailing list for all the latest recipes, news and blog updates.