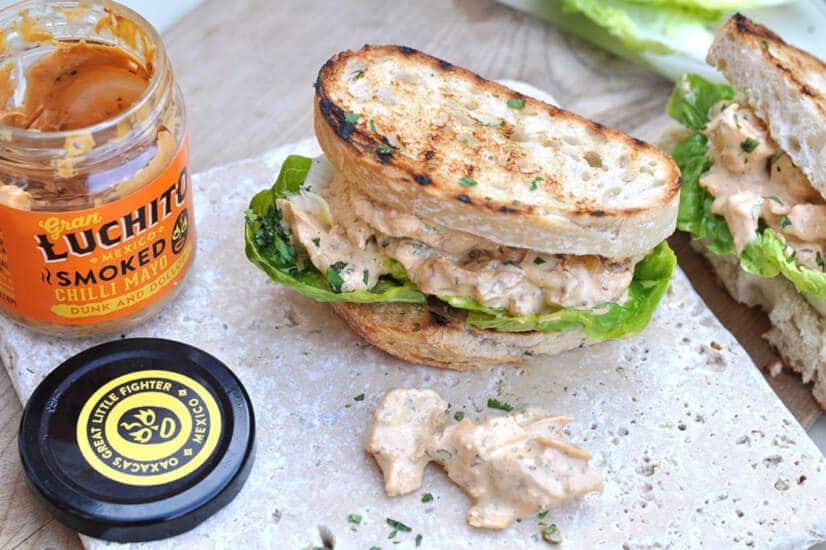 Coronation Chicken With Smoky Chipotle
Home | Recipes | Quick & Easy | Snacks & Starters
Coronation Chicken can be seen as being a little bit outdated. We love a good Coronation Chicken, we couldn't resist giving it a go with our take on a Gran Luchito Chipotle Mayo, and we're very glad we did.
This tastes great and brings some flavour and excitement!
Perfect with rice and salad, as a topping for a jacket potato or between 2 slices of thick-cut bread. This is also a great way to use a leftover roast chicken from your Sunday Mexican Roast Chicken (as if there's ever any left!)
Prep time

15mins

Cook time

5 mins

Total time

20 mins

Ideal for

Chicken

Make it

Mexican

Serves

4
How to make it
Mix mango chutney, Gran Luchito Chipotle Mayo, Greek yoghurt and toasted Madras curry powder.
Marinate chicken in mix (for as long as you can wait).
Stir through some toasted almonds, sultanas and a little coriander and serve in a sandwich with crisp lettuce.
Have you tried these recipes?
Uses Lightly Salted Tortilla Chips , Chipotle Refried Beans , Fire Roasted Serranos , Chipotle Paste