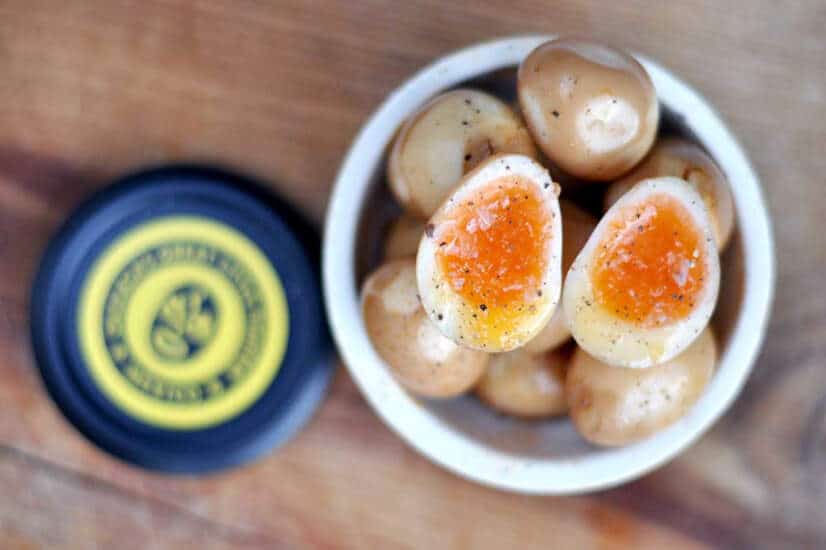 Chipotle Pickled Eggs
Home | Recipes | Snacks & Starters
Chipotle Pickled eggs won't be for everyone, but if you're a fan, you're going to love these.
They are at their best when soft-boiled so that the yolks are soft, but not completely runny. Quails eggs are a little fiddly to prepare, but having a jar of these in the fridge to snack on makes it all worthwhile. This is a great use for all your empty Luchito jars. This also works well with normal eggs.
The Chipotle pickled eggs are a great bbq amuse bouche served alongside our bacon wrapped asparagus recipe. Afterwards, we recommend serving either our Monkfish Kebabs recipe or Chipotle Tandoori Chicken.
Prep time

30 mins

Cook time

30 mins

Total time

1 hour

Ideal for

Snack

Make it

Mexican

Serves

4
How to make it
Put the quails' eggs in a pan of boiling water with a teaspoon of salt dissolved in it (to prevent cracking eggs) and boil for 3½ minutes. Prepare an ice-water bath to immediately spoon the eggs into after boiling.
When cool, carefully break the shells with the edge of a teaspoon and peel each one (see Chef's tip).
Once they are all peeled, put them aside and get on with the pickling liquid.
To make pickling liquid, put the cider vinegar in a saucepan with the coriander seeds, garlic cloves, onion, Gran Luchito Chipotle Paste, the remaining salt and the sugar.
Bring to a boil then simmer for about 20 minutes.
Meanwhile, sterilise your jars by pouring boiling water inside and around the thread of the lid and the lid itself.
Carefully add the eggs to the jars and pour over the pickling liquid until the eggs are completely submerged.
Replace the lid and leave for 3 days in the fridge to absorb the flavours.
Have you tried these recipes?