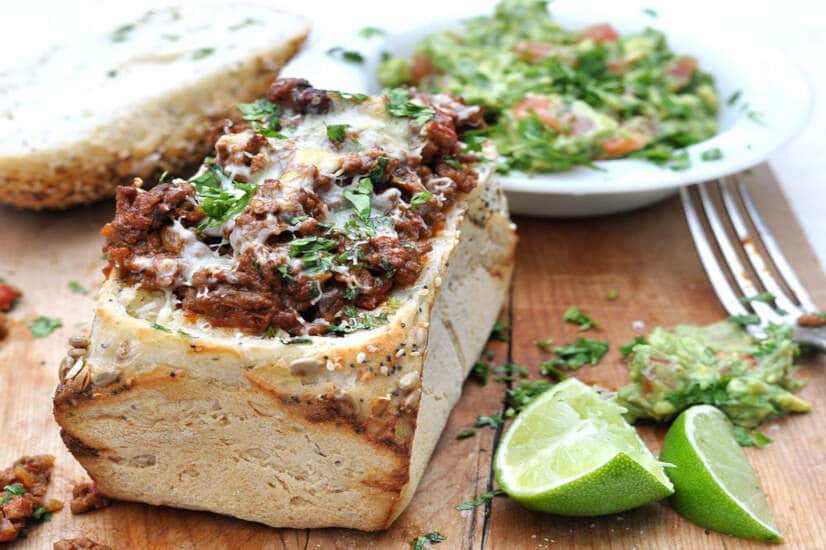 Chilli Bunny Chow
Home | Recipes | Family Favourites | Quick & Easy
Bunny Chow, a South African fast food classic, is normally a curry served inside a hollowed out loaf, but we think chilli con carne is perfect for it too. Whether you eat your bowl as you go along, or at the end is completely up to you.
Either way, you get to eat your chilli-soaked bowl.
If this fancy this Mexican/India mash up you should also check out our Tandoori Chicken recipe!
Prep time

30 mins

Cook time

1hr

Total time

1 hr 30 mins

Ideal for

Asian

Make it

Mexican

Serves

4
How to make it
Start with the chilli. Finely chop all the fresh veg (onion, garlic, celery, peppers) and gently fry in 2 lugs of olive oil for 8-10 mins or until nice and soft in a large casserole dish.
Throw in the Chipotle Paste, cumin and cinnamon.
Add the tomatoes, kidney beans and finely chopped coriander stalks.
Fry the minced beef with a lug of olive oil in another frying pan to brown (this will add flavour to the meat) then add to the other ingredients and mix well.
Add salt & pepper.
Put a lid on it, leaving a small gap and cook on low heat for about an hour (longer if you have time).
Meanwhile, prepare your bread bowls. Take your small loaves of bread and cut a lid off. Keep this as it will be handy to keep the dish warm when it comes time to serving.
Hollow out the bottom of the loaf (keep the bread and freeze for breadcrumbs). This is your chilli bowl.
Once you're happy with the consistency of the chilli, season and warm your bread bowls in the oven.
Spoon the chilli into the bread bowls and sprinkle with chopped coriander leaves and some grated cheddar cheese. Replace the lid and serve with some nice guacamole and sour cream.
Have you tried these recipes?