Chicken Milanesa
"Milanesa de pollo," a beloved dish among Mexican families, primarily features chicken but can also include pork or thin beef steaks. The meat is breaded and fried to achieve a golden and crispy exterior, often served simply with a side of green salad or chips.
With origins that trace back to German schnitzel and Italian milanese chicken, it is evident that this delightful dish has been embraced by Latin American countries, each with its own unique way of preparation and presentation. In Mexico, for instance, you can frequently find tortas filled with chicken milanesa—a sandwich made with a local bread known as "bolillo."
In our version of chicken milanesa, we take a twist by using crushed Gran Luchito Lightly Salted Tortilla Chips as the breading for the chicken breasts. This addition creates an irresistibly crunchy coating for your milanesa. We sincerely hope that you will enjoy this variation as much as we do.
What you need to make Chicken Milanesa:
Chicken: Breast chicken is the best to make milanesa, with a sharp knife butterfly your chicken breasts, into thinner chicken filets. This is recommended as they will cook evenly and faster, achieving perfectly golden brown outside without drying the inside of your chicken.
Flour: A light coat of flour is used to help the beaten eggs cover the chicken evenly.
Eggs: Whisked eggs can be seasoned with your favorite spice mix, we use Gran Luchito Guajillo Fajita & Taco Mix. The beaten eggs help to adhere a nice layer of breading on your chicken.
Breadcrumbs: They can be homemade or store bought, for this recipe we used Gran Luchito Lightly Salted Tortilla Chips blended into crumbs to make an extra crispy and delicious chicken milanesa.
Vegetable oil: Canola or rapeseed preferably, achieves a beautiful golden brown breading when fried.
Prep time

Cook time

Total time

Ideal for

Dinner

Make it

Mexican

Serves

4
How to make it
With a sharp knife butterfly your chicken breasts (see video for reference). Then place a piece of chicken in between two pieces of parchment paper and with a meat tenderizer pound the breast to achieve a thinner and even surface on your filet. Repeat the same process with the rest of the chicken. When they are ready, season your chicken with salt and pepper on both sides.
In the blender place all the Lightly Salted Tortilla Chips and blend them until you get a crumble-like texture.
Set up a breading and a frying station. In a shallow bowl add the plain flour, in another one crack the eggs and add the Chipotle Fajita & Taco Mix, whisk the eggs. On a third bowl add the crushed Lightly Salted Tortilla Chips. Finally, heat up a frying pan with the vegetable oil over medium-high heat, then place kitchen paper over a plate to get rid of excess oil after frying.
Follow the next steps: First place the chicken breasts in the flour, shake the excess off and now dip the floured chicken into the bowl with the beaten eggs. Drip the excess egg and place directly into the crushed tortilla chips, with your hands make sure it is coated well on both sides. Once ready, reserve on the side and repeat the same process with the rest of your chicken.
When they are all breaded, cook them one by one into the hot oil. It takes a bit of time on both sides to make sure to cook them in a medium heat until golden brown and crispy on both sides. Once ready, place the milanesa over the plate with the kitchen paper to remove any excess oil, repeat the same process with the remaining milanesas.
Serve with a green salad on the side, with a simple lime and olive oil dressing and a few spoonfuls of Mexican Rice, enjoy!
What To Serve With Chicken Milanesa
Download Our Free Guide To Tacos
Your free Taco guide will be emailed to you immediately.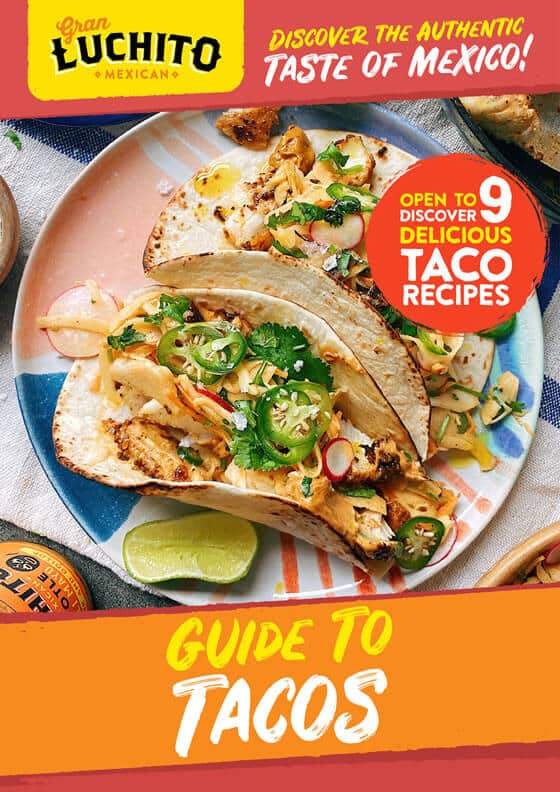 Similar Recipes You Might Like to Try
FAQs
What is chicken milanesa?
Chicken milanesa is a popular dish made from chicken cutlets that are breaded, fried until golden and crispy, and typically served with accompaniments like salad or mashed potatoes.
Can I use any part of the chicken for chicken milanesa?
Chicken milanesa is commonly made with boneless, skinless chicken breasts, but you can also use boneless chicken thighs or chicken tenderloins for a slightly different texture and flavor.
What are common side dishes to serve with chicken milanesa?
Popular side dishes include fresh salads, roasted or mashed potatoes, steamed vegetables, or even a side of rice and beans. The choice of accompaniments depends on personal preference.
Comments / Questions / Tips

Subscribe now for a free copy of the Gran Luchito e-cookbook filled with delicious, authentic Mexican recipes and join our mailing list for all the latest recipes, news and blog updates.