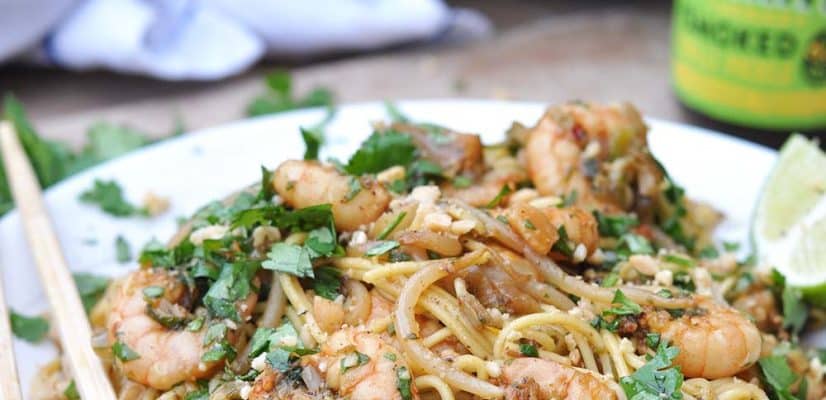 Zesty Prawn Stir Fry
Using our Gran Luchito Chipotle Paste this Zesty Prawn Stir Fry recipe brings together Mexican smoked chilli with classic Southeast Asian flavours and they work wonderfully well.
Give this a go for a speedy mid-week meal that's as healthy as it is tasty!
Prep time

Cook time

Total time

Ideal for

Mexican

Make it

Dinner

Serves

4
Nutrition: Per serving
kcal 144
fat 5.2g
saturates 0.5g
carbs 14.7g
sugars 1.9g
fibre 1.7g
protein 9.9g
salt 1.7g
How to make it
In a food processor, whizz up the Gran Luchito Chipotle Chilli Paste, lime zest and juice, coriander stalks, garlic, sugar and fish sauce into a paste. Empty onto the prawns in a bowl and mix well. (This could be done a couple of hours before so as to maximise the effect of the marinade.)
Heat a wok with 1 tablespoon of vegetable oil, add the spring onions and ginger and fry for about a minute.
Add the beansprouts and fry for another 2 minutes, followed by the crushed peanuts, soy sauce and a good pinch of pepper. Empty the contents of the wok into a bowl, clean the wok, then return it to the heat.
Heat another 1 tablespoon of vegetable oil in the wok. Once hot, use a slotted spoon to add the prawns (leaving the marinade in the bowl for now) to the wok and toss in the hot oil.
After a minute or so (once the prawns have turned pink), turn down the heat, add the marinade and cook for another 2 minutes.
Add the noodles, vegetables and half of the coriander leaves. Mix well, then sprinkle with the coriander leaves and serve with wedges of lime.
Similar Recipes You Might Like to Try
Comments / Questions / Tips

Subscribe now for a free copy of the Gran Luchito e-cookbook filled with delicious, authentic Mexican recipes and join our mailing list for all the latest recipes, news and blog updates.