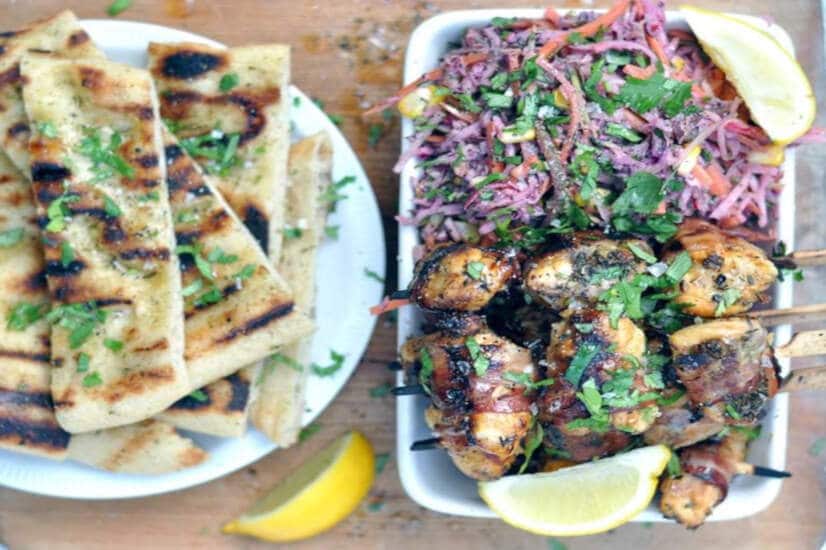 Monkfish Kebabs
If there's one fish that's great on the barbecue, it's got to be monkfish. We marinated these monkfish kebabs in zingy lime, Chipotle Honey and thyme then wrapped it in wafer-thin strips of pancetta before quickly flame-grilling on a barbecue. This would work well with other meaty fish like cod, salmon or even scallops too.
Feel free to experiment with what you use in the coleslaw (the combination below works really well, or you could try our chipotle coleslaw), with the most important elements being the dressing and getting the vegetables as thinly shredded as possible.
We developed this recipe for a collaboration with our friends at Big Green Egg. Be sure to check out all the other Big Green Egg recipes.
Our mild tomatillo salsa would be the perfect accompaniment to these Monk Fish Kebabs.
Prep time

1 hour

Cook time

30 mins

Total time

1 hour 30 mins

Ideal for

Barbecue

Make it

Mexican

Serves

2
How to make it
In a mixing bowl, combine the lime juice and zest, chipotle chilli honey, olive oil, garlic, thyme leaves and a good pinch of salt and pepper. Mix well.
Add the monkfish to the marinade and leave for at least 1 hour.
Lift the fish out of the marinade and wrap a strip of pancetta around the middle of each piece. Don't discard the marinade. Cook the fish on a hot barbecue or grill for about 5 minutes in all, brushing with the marinade as the fish cooks. Take care not to let it burn, but leave long enough to develop some nice colour.
Once cooked, leave to rest for 5 minutes wrapped in tin foil.
Garnish the kebabs with the coriander and serve with the coleslaw.
Chef's tip
This would work well with other meaty fish like cod, salmon or even scallops.
Have you tried these recipes?
Uses Habanero & Lime Fajita & Taco Mix , Hot Habanero Mango Salsa , Soft Taco Wraps