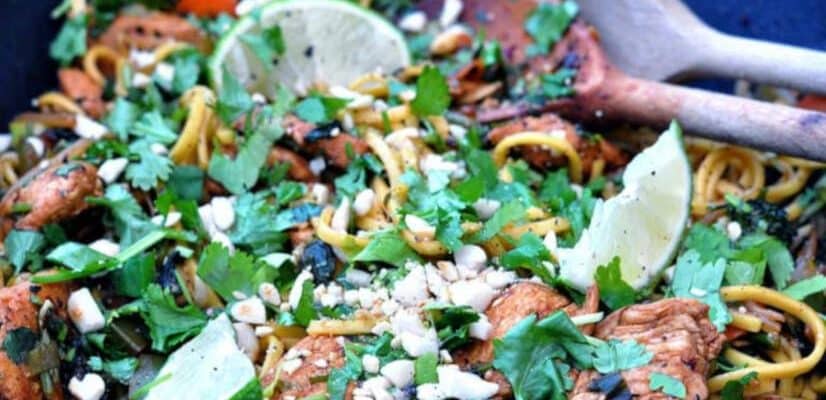 Spicy Chicken Stir Fry
Make a deliciously spicy chicken stir fry with a Mexican twist using our Gran Luchito Chipotle Paste to marinate the meat. This dish is a triple threat: it's very healthy, it's tasty, and it's super quick & easy to make. The most important thing with this chicken stir fry is to prepare all your ingredients beforehand so nothing gets overcooked. You're looking for lovely crispy vegetables and juicy tender chicken.
Prep time

Cook time

Total time

Ideal for

Dinner

Make it

Mexican

Serves

2
Nutrition: Per serving
kcal 110
fat 5.6g
saturates 0.8g
carbs 2.3g
sugars 1.3g
fibre 1.5g
protein 12.2g
salt 0.64g
How to make it
Begin by cutting the chicken breasts into strips. Mix well with the Gran Luchito Chipotle Paste and leave to marinade while you prepare the other ingredients.
Cook noodles according to instructions then drain.
We like to keep ginger in the freezer and then just grate off as much as we need when we need it. If using fresh, peel with a spoon (it's easier than a knife) and either chop finely or grate.
Separate the purple sprouting broccoli stems and florets. Chop the stems into small chunks and leave the florets whole or cut into bitesize chunks if necessary.
Chop coriander stalks finely and roughly chop the leaves.
Peel and finely dice the garlic.
Roughly chop the spring onions.
Wash and slice the carrot into thin discs.
Cut the peas into small chunks.
Heat a dry frying pan. Crush peanuts into chunky pieces and toast in pan (don't burn).
Heat a wok over a high heat and add a little vegetable oil.
Once very hot, add the chicken and leave to take on some colour before stirring and browning all over (about 2-3 minutes only).
Add the carrots and broccoli stems. Cook, stirring continuously for another 2-3 minutes.
Next add the broccoli florets, peas, garlic and spring onions. Another 2-3 minutes moving it around constantly.
Add the coriander stems and beansprouts and cook for another couple of minutes.
Next add the grated ginger, sesame oil, soy sauce and fish sauce. Stir well.
Stir through half of the toasted peanuts, noodles and coriander leaves just before serving.
Serve with more toasted peanuts to sprinkle over the top and wedges of fresh lime.
Similar Recipes You Might Like to Try
Comments / Questions / Tips

Subscribe now for a free copy of the Gran Luchito e-cookbook filled with delicious, authentic Mexican recipes and join our mailing list for all the latest recipes, news and blog updates.