From the best taquerias to the finest high-end restaurants our Cancun Restaurants Guide will help you decide where to eat in paradise. Don't forget to check out our Cancun Travel Guide for all our top picks on where to stay, the best things to do in Mexico and essential travel tips and hacks.

Taquería Coapeñitos  ($)
This taquería is a simple, yet authentic place that is perfect for savouring "real" Mexican tacos. Locals and foreigners love Taquería Coapeñitos due to its laid-back ambience, flawless service, and its wide variety of tacos and home-made salsas.
Taquería Coapeñitos, Av.Nader #25 Mza 13 Lte 7,SM 2, 2, 77500 Cancun, Q.R., México.
+52 998 253 0360
Va Q' Va  ($$-$$$)
Located in downtown Cancun, Va Q' Va is an off-the-beaten-path restaurant worthy of a visit. If you want to savour authentic Mexican seafood, this restaurant in Cancun is definitely the place to be. Do not forget to try its delightful ceviche and its exquisite beer based micheladas.
Va Q' Va, Calle 107 Manzana 38 Lote 18 y 19, 220, 77517 Cancún, Q.R., Mexico.
+52 998 255 7435
Du Mexique ($$$$)
Sonya Girmond's and Chef Benjamin Ferra y Castell's hybrid, high-end gastronomic temple: Du Mexique. Featuring only seven tables, Du Mexique in Cancun offers dishes that mix the best of the Mexican ingredients with French cooking techniques.
Du Mexique, Av. Bonampak 109, esq. Calle Pargo, Mz 17, SM 3, Zona Centro, 77500, Cancún, Q. Roo., México.
+52 998 884 5889
For Sundowners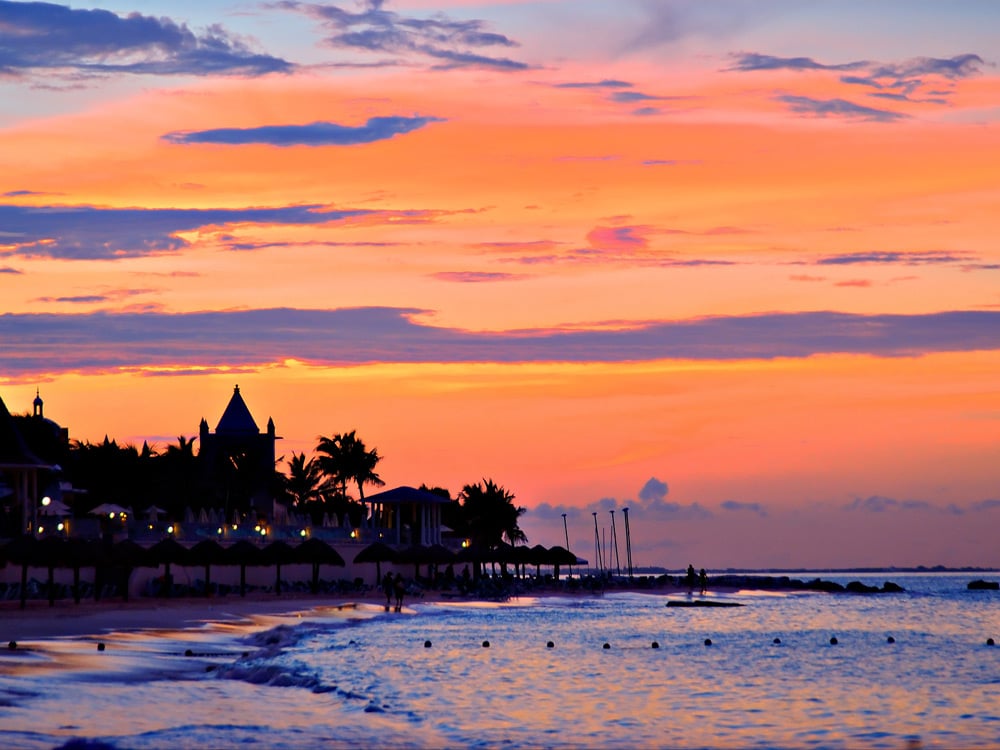 Cancun sunsets are spectacular. One thing to consider though is that in the Hotel Zone the ocean faces east which means you will see the sun rise but not set. We recommend finding somewhere that looks towards the lagoon if you're after a drink and a sunset. 
Surfin' Burrito
If you are looking for a laid-back place, we recommend Surfin' Burrito, a combination of a Mexican and American bar in the middle of Cancun. If you fancy a mojito in a casual atmosphere bar, try Blue Gecko Cantina. While most travelers are into margaritas, mojitos, tequilas, and beers, if you're into wine try El Rincón del Vino, the first bar in Cancún to only serve wine. To keep the party going late into the night, try The City Discotheque (the biggest nightclub in Latin America).
The Surfin Burrito, Blvd. Kukulcan Km. 9.5, Zona Hotelera, 77500 Cancún, Q.R., Mexico
+52 998 883 0083
Blue Gecko Cantina, Blvd. Kukulcan Km. 16, Zona Hotelera, 77500 Cancún, Q.R., Mexico
+52 998 840 6935
El Rincón del Vino, Av Carlos Nader 88, 3, 77500 Cancún, Q.R., Mexico
+52 998 898 2446
The City Discotheque, Blvd. Kukulcan Km 9.5, Zona Hotelera, 77500 Cancún, Q.R., Mexico
+52 998 883 3333 ext. 138
There you have our top picks of where to eat in Cancun. We would love to hear from you, be sure to tag #GranLuchito!