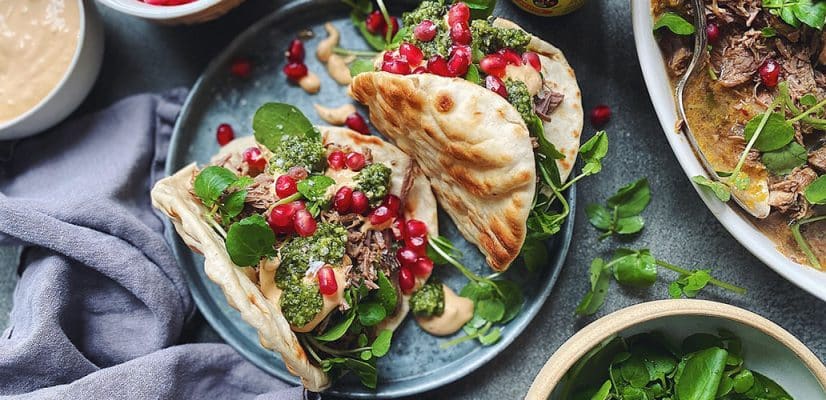 Pulled Lamb Flatbreads
When Luchito-lover Hannah (lifelong Luchito lover and owner of Nourish PR) asked us for a special Easter idea, this is what we came up with. Inspired by the amazing barbacoa lamb found in all of Mexico, this pulled lamb flatbreads recipe was slightly time-consuming to make but trust us, its worth it!
Beautifully tender pulled lamb flatbread perfectly complemented with fresh mint and cashew pesto, chipotle chilli crème fraîche, crunchy pea shoots and sweet bursting pomegranate seeds. All wrapped up in a tasty flatbread.
This pulled lamb recipe is pretty much a complete meal so we have no recommendations for a side dish. However, if you reckon your guest might be extra hungry, our Mexican Chicken Soup recipe would make a great starter.  Some seriously epic eating!
Chef's tip
Arrange the individual elements on a board and let everyone serve themselves.
Prep time

30 mins

Cook time

3 hrs, 30 mins

Total time

4 hours

Ideal for

Summer

Make it

Mexican

Serves

6
How to make it
The lamb will need to cook for at least 4 hours, so start early. Preheat the oven to 170°C / 340°F / Gas 3½.

In a pestle and mortar or a food processor, combine the 4 peeled garlic cloves, the coriander seeds, rosemary,

Gran Luchito Chipotle Paste

and olive oil and season with salt and pepper. Blitz to a paste, but don't worry if it's not completely smooth.

Rub the paste all over the lamb, making sure you get it in all the nooks and crannies.

In a large roasting pan, lay the onions in the middle and place the lamb on top. Pour the stock and vinegar into the pan. Add the remaining unpeeled garlic clove amongst the onions.

It's really important to cover the lamb properly to prevent it from drying out. Use foil and make sure there are no holes.

Cook in the oven for 3½ hours (this is a good time to get the other bits sorted).

You'll know when the lamb is ready when it falls apart from the bone and shreds easily when pulled with two forks (if it's not ready, place back in the oven for another 30 minutes).

When ready, remove the unpeeled garlic clove and set aside. Shred the meat and mix it in with the onions. Leave it for about 15 minutes to soak up the juices before serving.
FOR THE PESTO
In a food processor, combine the mint, coriander, pumpkin seeds, cashews, parmesan and the soft flesh from the roasted garlic clove.

Blitz the ingredients and gradually add the oil until you are happy with the consistency (it should be loose but not too loose).

Add seasoning and lime juice to taste. Once ready, cover and leave in a bowl in the fridge until ready to serve.
FOR THE CRÈME FRAÎCHE
Whisk together the crème fraîche and Gran Luchito Chipotle Paste in a mixing bowl (add more or less paste depending on how hot you like it!). Leave covered in the fridge until ready to serve.
TO SERVE
Put the meat on a serving plate with the remaining ingredients in bowls for everyone to help themselves and enjoy this pulled lamb wrap recipe.
Similar Recipes You Might Like to Try
Please let us know what you think of this recipe