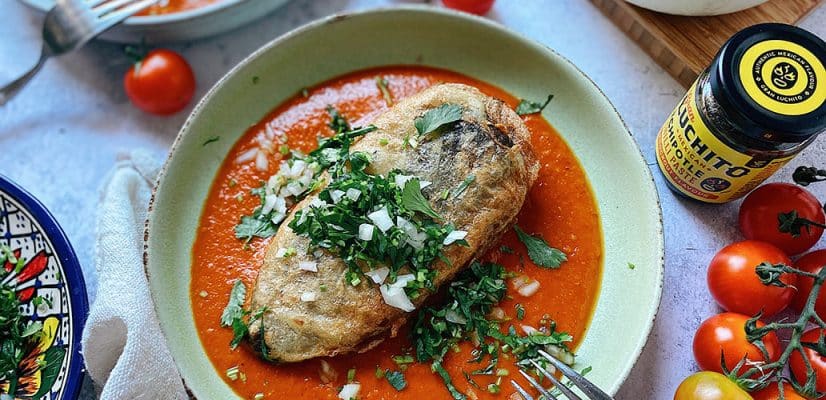 Stuffed Poblano Peppers
"Chiles rellenos" are stuffed poblano peppers, covered in a light batter made of egg whites whisked until stiff, then shallow fried and served with a homemade tomato-based sauce. 
Poblano peppers are traditionally prepared by being charred over direct contact with a flame until the skin looks nice and is charred all around. They're then covered with cling film or a tea towel for a couple of minutes to let the steam help loosen up the skin and make them easier to peel. Once the peppers are peeled they are ready to be used.
There are a few stuffed poblano peppers recipes with different kinds of fillings, but the most well known ones are normally stuffed simply with cheese.
You can often find Mexican stuffed peppers as part of celebrations such as Day of the Dead and Mexican Independence Day. 
This Mexican stuffed peppers recipe is very representative of Mexican culture and poblano peppers are very appreciated for their unique and mildly spicy taste. Their size also makes them perfect for stuffing!
In the UK and Europe, it's not easy to find fresh poblano peppers, so we made this peppers recipe using tinned whole poblano peppers. All you need to do is to drain them well and pat them dry with kitchen paper before adding the grated cheese.
We served this stuffed poblano peppers recipe with a lovely sauce made out of roasted tomatoes, garlic and onion, blended smoothly with our favourite pantry ingredient : Gran Luchito Chipotle Paste. 
The combination of the chile relleno and the warm tomato chipotle sauce is worthy of any special celebration and we hope that you love it too!
Prep time

10 mins

Cook time

30 mins

Total time

40 mins

Ideal for

Lunch

Make it

Mexican

Serves

4
How to make it
Preheat oven to 180˚C / 350˚F. Begin by preparing your roasted tomato and chipotle sauce. In a lined tray place the tomatoes, onion and garlic. Add a drizzle of olive oil, a pinch of salt and bake for 25 mins.

Once ready, remove the tray from the oven and add the roasted tomatoes into the blender with the chicken stock,

Gran Luchito Chipotle Paste

, a pinch of salt and freshly ground pepper. Blend until smooth and return the mixture to a small pan. Simmer for 10 minutes on a medium heat.

For the stuffed peppers, drain the peppers and give them a light wash, pat them dry with kitchen paper and set them aside.

Prepare the egg white batter by adding 2 egg whites into a mixing bowl, a pinch of salt and the corn starch. Whisk until you get stiff peaks. When the batter is nearly ready add ½ an egg yolk and finish whisking your egg mixture. This will add a bit of colour into your egg white mixture, and once ready set it aside.

In a shallow bowl add the flour. Fill the poblano peppers with grated cheese and then dust the poblanos with the flour. Shake off any excess flour and repeat the same with the rest of the peppers. Place them over a plate and set aside.

Add the vegetable oil into a frying pan and heat it up over a medium / high heat. Your oil will be ready for frying when it begins smoking lightly. Reduce the heat a little bit and then begin to fry.

Cover the flour dusted poblanos carefully with the egg white batter, then carefully place over the hot oil and fry until golden brown on both sides. Once ready, remove from the oil and place it over kitchen paper to absorb any excess oil. Repeat the same process with the remaining peppers.

Reheat your roasted tomato chipotle sauce and get ready to serve.

On a plate add a good amount of roasted tomato sauce as the base and then place your warm stuffed pepper on top. Garnish with a bit of coriander and onion, then serve and enjoy!
What To Serve With Stuffed Poblano Peppers
For the complete authentic experience, we recommend serving these Stuffed Poblano Peppers alongside warm Gran Luchito Soft Tacos, Mexican Black Beans or our recipe for Mexican Rice.
Download Our Free Guide To Mexican Classics
Your free guide will be emailed to you immediately.
Similar Recipes You Might Like to Try
FAQs
Can you freeze stuffed peppers?
To freeze stuffed peppers that have already been cooked, use tuppleware for maximum convenience. It can then go right into the freezer and you can simply take your peppers out and reheat them when you need them. They will last easily 3 months or longer in the freezer. When ready to eat, bake them straight from frozen.
Are these stuffed poblano peppers healthy?
All of the ingredients in our stuffed poblano peppers are very healthy. The peppers themselves, homemade tomato sauce, homemade batter and a little mozzarella are all great fresh ingredients.
What normally goes well with stuffed peppers?
We recommend serving these with some warm Soft Taco Wraps, black beans, or Mexican rice. However, you could also serve them as a starter or side dish to a main course such as chilli con carne, or enchiladas.
Please let us know what you think of this recipe