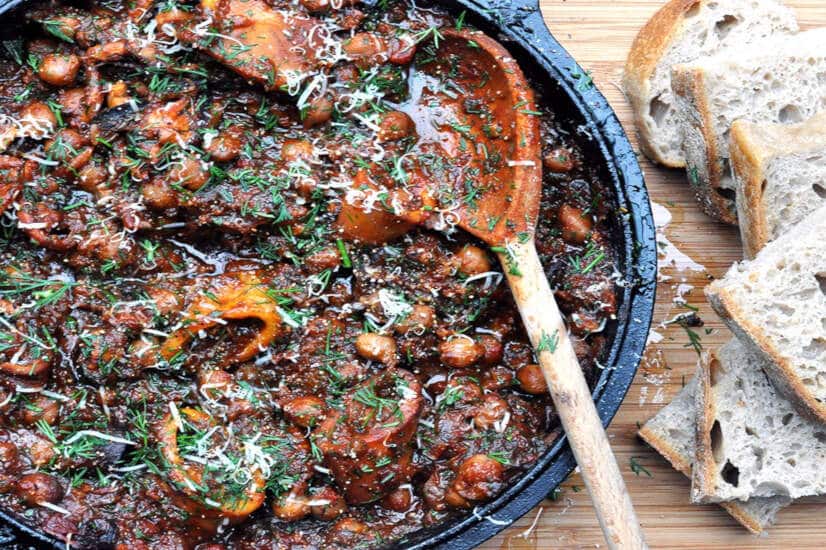 Squid and Chorizo Seafood Bake
Home | Recipes | Slow & Low
This rich tomato sauce with meaty chunks of chorizo and plenty of chickpeas is the perfect accompaniment to the wonderful texture and flavour of the tender squid. Finished this seafood bake with a sprinkle of fresh dill and some grated Parmesan, this is hearty food at its best.
Our raw courgette salad is a great accompaniment to this seafood bake.
Prep time

1 hour

Cook time

1 hour

Total time

2 hours

Ideal for

Slow&low

Make it

Mexican

Serves

4
How to make it
Preheat the oven to 160°C (325°F, Gas 3).
Add a slug of olive oil to an ovenproof pan over a medium heat.
Add the red onion, celery, garlic, chorizo, Gran Luchito Chipotle Paste and a generous pinch of salt and pepper. Mix well and cook for about 15 minutes, or until the onion goes translucent.
Stir in the squid, tomatoes, tomato purée, sherry and chickpeas. Stir well. Cover and cook in the oven for 1½ hours.
Remove the lid and cook for another 10 minutes.
Sprinkle with the dill, a sprinking of finely grated Parmesan and a drizzle of olive oil.
Serve with some flatbreads, nice crusty bread or polenta.
Have you tried these recipes?