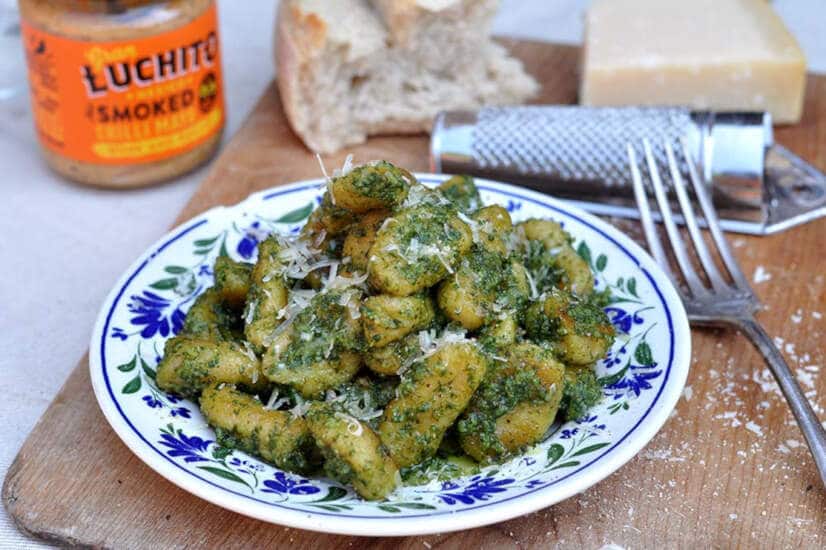 Spicy Gnocchi
Home | Recipes | Family Favourites | Quick & Easy
Gnocchi is a classic Italian recipe made from mashed potatoes. If you love pasta and you've never tried it, you'll absolutely love this spicy gnocchi recipe.
Having discovered how good our Chipotle Mayo is in mashed potato back when we made our Mexican Shepherd's Pie recipe, we thought we'd try popping some in gnocchi. A very subtle smoky chipotle chilli kick make this a very special dish. Try adding bacon bits to make it extra special.
This spicy gnocchi dish is great served either with our courgette salad or our goat's cheese and tomato salad recipe.
Prep time

45 mins

Cook time

15 mins

Total time

1 hour

Ideal for

Vegetarian

Make it

Mexican

Serves

6
How to make it
Put the flour on a work surface. Press the potato into a bowl shape on top and break the eggs into the centre. Gently knead together until you have a soft dough.
Clean the work surface and dust with flour. Break the dough into 4 and roll into balls, then shape into a long sausage about 3cm (1¼in) wide. Cut them into 1.5cm (½in) thick chunks and dust with flour.
Using a fork, lightly press each chunk into the prongs. This will create a grooved shape on one side, and a dip on the other, both of which will help to trap sauce.
Bring a saucepan of salted water to the boil, then reduce to a simmer. Add the gnocchi in batches and gently stir. They will quickly rise to the top. Leave for 10–15 seconds before transferring to a bowl with a slotted spoon. Drizzle with a little olive oil (to stop them sticking together).
Heat a little butter in a frying pan until bubbling but not burning, add the gnocchi in batches and fry for a few minutes to crisp up slightly.
Whizz all the ingredients for the pesto to a fine paste in a food processor. Stir the warm gnocchi into the pesto, then sprinkle with Parmesan and drizzle with olive oil to serve.
Have you tried these recipes?