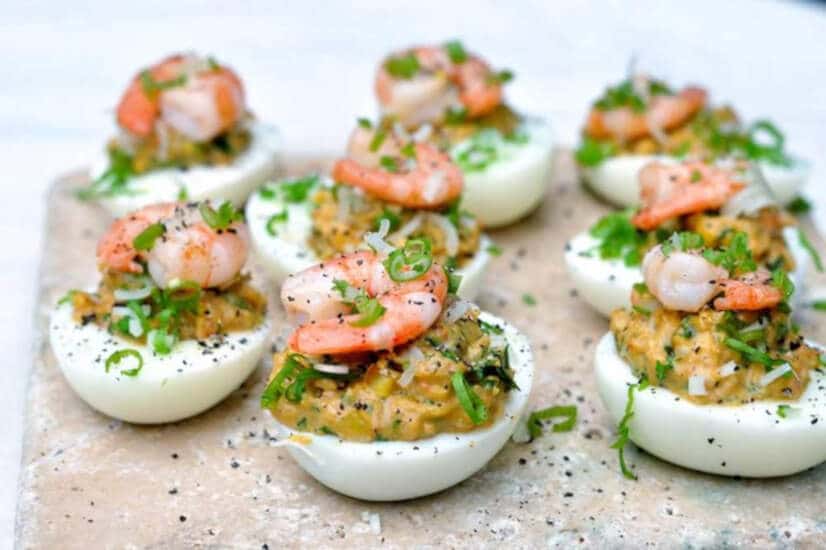 Spicy Deviled Eggs
Home | Recipes | Quick & Easy
If you've never had spicy deviled eggs, then this is your chance. These are so incredibly tasty, perfect for dinner parties/canapés and the recipe can be easily adapted. And not one single egg pun. Excellent!
Serve these spicy deviled eggs alongside some chipotle hummus and these chipotle cheese straws.
Prep time

10 mins

Cook time

10 mins

Total time

20 mins

Ideal for

Snack

Make it

Mexican

Serves

8
How to make it
Add the eggs to a pan of boiling water and continue to boil for 8 minutes. Drain, then cover in cold water. Leave to cool.
Carefully peel the eggs without breaking the whites. Slice in half lengthways with a sharp knife.
Scoop out the yolk with a teaspoon or with your fingers, leaving the white to one side.
Chop all but 8 of the prawns very finely.
Add the yolks to a mixing bowl with the chipotle chilli mayo, chopped prawns, finely chopped parsley, salt and pepper.
Mix well, taste and adjust seasoning if necessary.
Spoon the mix back into the egg whites.
Top each half with a whole prawn, garnish with thinly sliced spring onion and season with salt and pepper.
Have you tried these recipes?