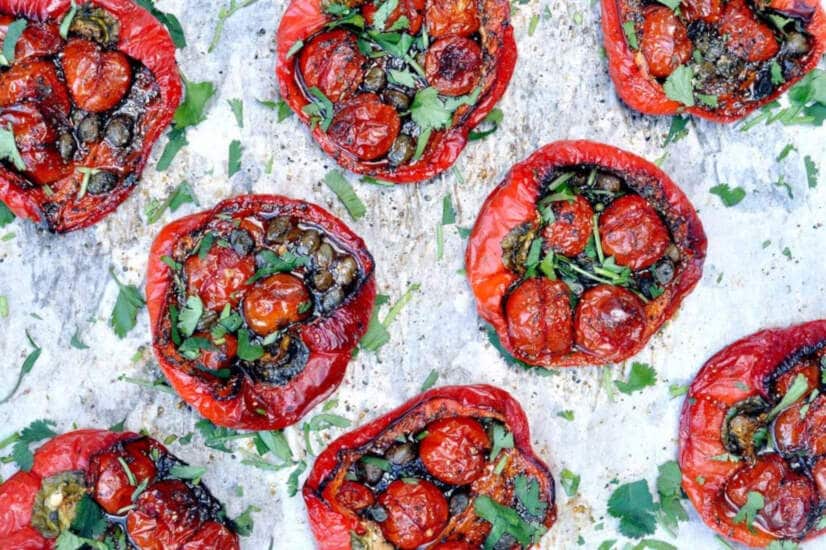 Slow Roasted Peppers
Home | Recipes | Slow & Low
These slow roasted peppers are super tasty and can easily be made vegetarian by leaving out the anchovies.
The most important things here are to get your hands on some lovely deep red tomatoes and to leave the peppers to cook for long enough to the point where they're completely tender. This is not one to rush.
Try serving these slow roasted peppers as a side to our roasted pork chop or chipotle jambalya recipe.
Prep time

37 mins

Cook time

38 mins

Total time

1 hour 15 mins

Ideal for

Slow & Low

Make it

Mexican

Serves

4
How to make it
Preheat the oven to 150°C (300°F, Gas 2).
Drizzle the peppers with a little olive oil and season inside with salt and pepper.
In each half, place one anchovy, a little Gran Luchito Chipotle Paste, a few strips of garlic, a teaspoon of capers, a sprinkle of dried herbs and finally a few whole cherry tomatoes.
Finish with another drizzle of olive oil and a bit more salt and pepper.
Roast in the oven, uncovered, for 1 hour. Sprinkle with fresh coriander to serve.
Have you tried these recipes?