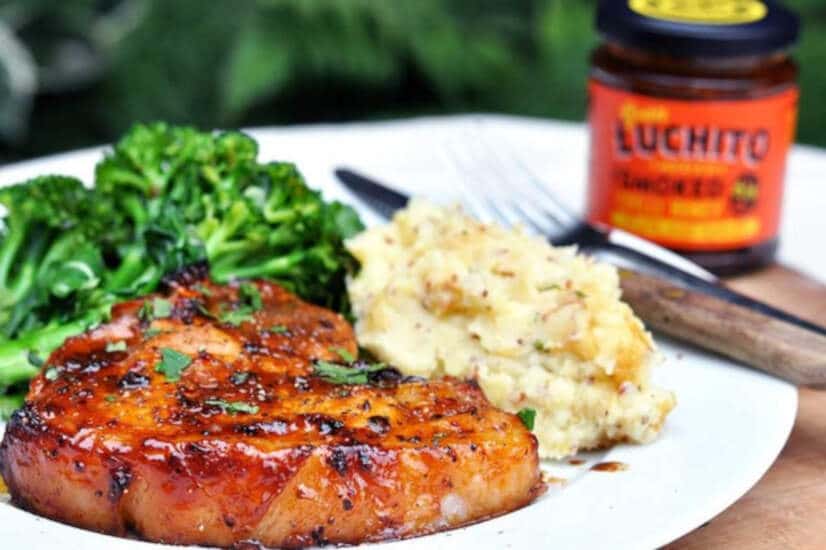 Roasted Pork Chop With Chipotle Honey
Home | Recipes | BBQ | Family Favourites
Smother a big pork chop in our smoky Chipotle Honey and roast it to perfection. The sugars caramelise and you get a gooey, sticky mess. This roasted pork chop is heavenly to eat with our Mexican mashed potato recipe and some bacon wrapped asparagus.
You could also do this roasted pork chop on the bbq, but you'll want to add the chipotle honey later to avoid it burning.
Prep time

10 mins

Cook time

15 mins

Total time

25 mins

Ideal for

Dinner

Make it

Mexican

Serves

2
How to make it
Pre-heat the oven to 180C.
In a mixing bowl, combine the Gran Luchito Chipotle Honey, olive oil, salt & pepper. Mix well.
Add the pork chops to the bowl and smother them.
Place pork chops in a roasting tin and pour over the excess glaze.
Roast in oven for about 15-20 minutes depending on how you like it cooked.
As it roasts, occasionally spoon over the honey glaze.
While it roasts, prepare your sides. We made wholegrain mustard mashed potatoes and lovely tender-stem broccoli.
Have you tried these recipes?