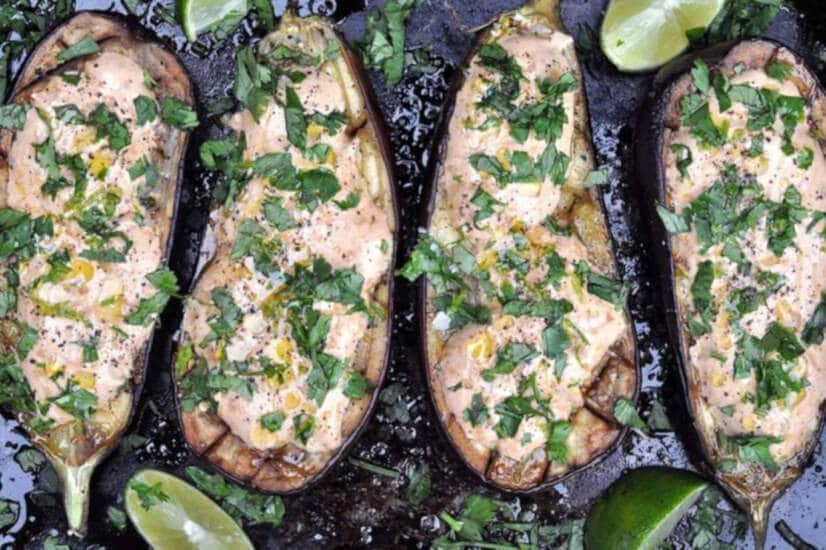 Roasted Aubergine With Chipotle Sour Cream
Home | Recipes | BBQ | Quick & Easy | Vegan & Vegetarian
Slow roast some aubergine halves with olive oil, salt & pepper and serve with a spiced-up Chipotle Paste smoky sour cream or creme fraiche for an easy midweek meal! We served it with some lovely ciabatta bread, but it'd work just as well with rice or couscous!
This roasted aubergine recipe would be a delicious side for our Mexican Roast Chicken or our chipotle glazed salmon recipe.
Prep time

10 mins

Cook time

45 mins

Total time

55 mins

Ideal for

Dinner

Make it

Mexican

Serves

4 halves
How to make it
Preheat the oven to 150°C (300°F, Gas 2).
Cut criss-cross pattern into flesh of each aubergine half down to the skin. Brush each half with olive oil, then repeat once the oil is absorbed. Sprinkle with a good pinch of salt and pepper.
Roast for 45 minutes. The flesh should be completely soft and easily come away from the skin when scraped.
Meanwhile, mix the sour cream with the chipotle chilli paste (if you want more spice, add a little more) and season with salt and pepper.
Spoon the cream over cooked aubergines. Drizzle with extra virgin olive oil, sprinkle with lime zest, roughly chopped coriander, salt and pepper.
Serve with rice, couscous or toasted ciabatta.
Chef's tip
You could use crème fraîche or Greek yogurt in place of sour cream.
Have you tried these recipes?