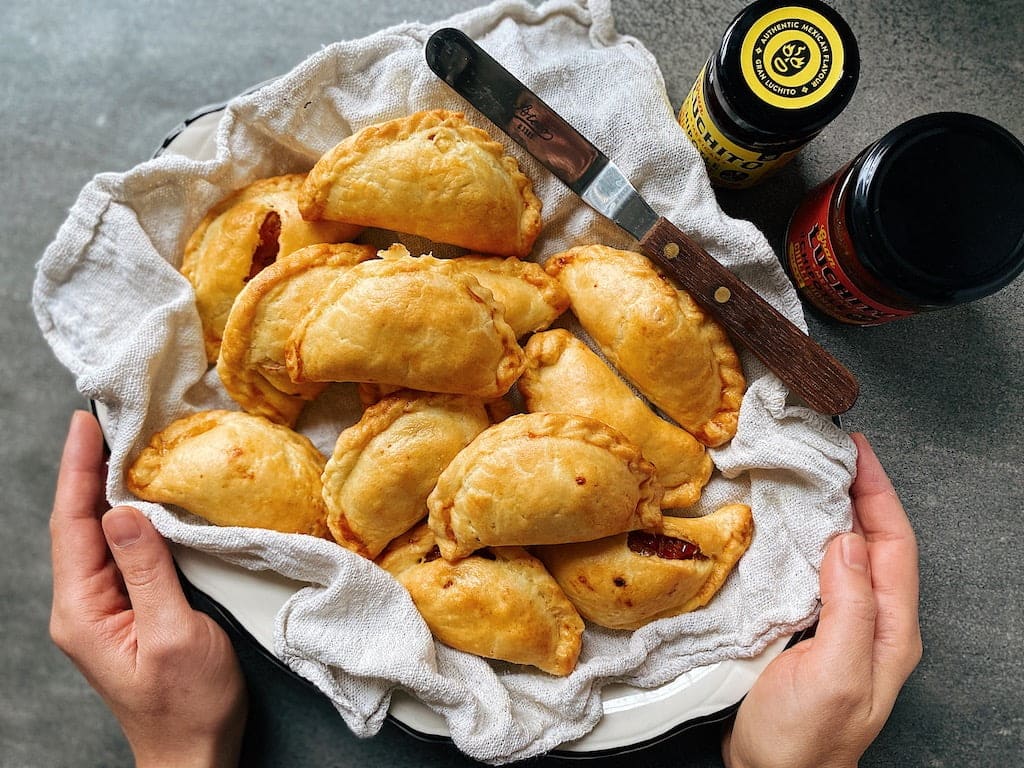 Quick Empanadas
Home | Recipes | Family Favourites | Mexican Classics | Quick & Easy | Snacks & Starters | Vegan & Vegetarian
While we gear up for a different kind of Christmas this year, we are focusing on the things that we have control over such as the food that we prepare for the day.  Because even if it's not a normal year, it doesn't mean that we can't still make it special and prepare a delicious feast to look forward to eating on the day. These Quick Empanadas with sweet potato and brie are easy to make using pre-made shortcrust pastry sheets, full of flavour and spice and a total crowd pleaser.
Our Chipotle Paste and Chipotle Honey can be your best friends while you are cooking up that special meal for your family and a bit of Mexican magic to the festivities. The Chipotle Honey is used to caramelise a red pepper and onion mixture, this flavoursome concoction is then mixed with the roasted mashed sweet potato, a final spoonful of Chipotle Paste is added for an extra kick. 
Pastry circles are filled with this tasty mixture and a piece of brie is pushed into the filling and then sealed by pressing the edges. Once they are baked the cheese will melt inside and combined with the delicious sweet potato and chipotle is a match made in heaven. 
These tasty Quick Empanadas can be prepared ahead of time and kept in the freezer, just place them on a tray that fits into your freezer and cover it with cling film, and make sure they are thaw completely before adding a little coating of egg wash on the outside and baking them in the oven until golden.
Be sure to check out our Christmas Dinner Ideas and also our Mexican Starters for more recipe inspiration for the big day.
Prep time

20 mins

Cook time

40 mins

Total time

60 mins

Ideal for

Party Food

Make it

Mexican

Serves

5
How to make it
Preheat the oven at 180 C , 356 F.

Place your whole sweet potato (with skin) in a small baking dish and roast in the oven until soft, about 20 min.
In the meantime, heat up on a frying pan the oil and add the butter, fry the onion and garlic gently until softened. Add the red pepper and fry for a minute or two, then pour in the Chipotle Honey and let it bubble in the mixture briefly, season with salt and pepper, remove from the heat.
Remove your sweet potato from the oven and let it cool down, then peel off the skin with your hand and mash roughly. Add the mash into the red pepper onion mixture and the Chipotle Paste, season with a pinch of salt and freshly ground coarse pepper, integrate everything with a spoon and reserve.
Add a bit of flour over your kitchen counter, place your pastry sheets over and stretch them slightly with a rolling pin. Then with a biscuit cutter (10 cm diameter) or a pint glass, cut circles to make your empanadas, you can make them bite-sized or bigger to be served as a snack.
Place spoonful of sweet potato and chipotle filling into the center of your pastry circle with a piece of brie, brush edges with the egg wash (egg and milk whisk together) and seal your empanadas, press the edges together and then pinch them to form the nice braiding on the edge (see pictures for reference), or you can just finish the edges by marking them lightly with a fork.
Repeat the same process with the rest of the filling and pastry circles. Place your empanadas over a lined tray and brush with more egg wash, bake in the oven until golden 20-25 minutes approx. Enjoy!
Have you tried these recipes?