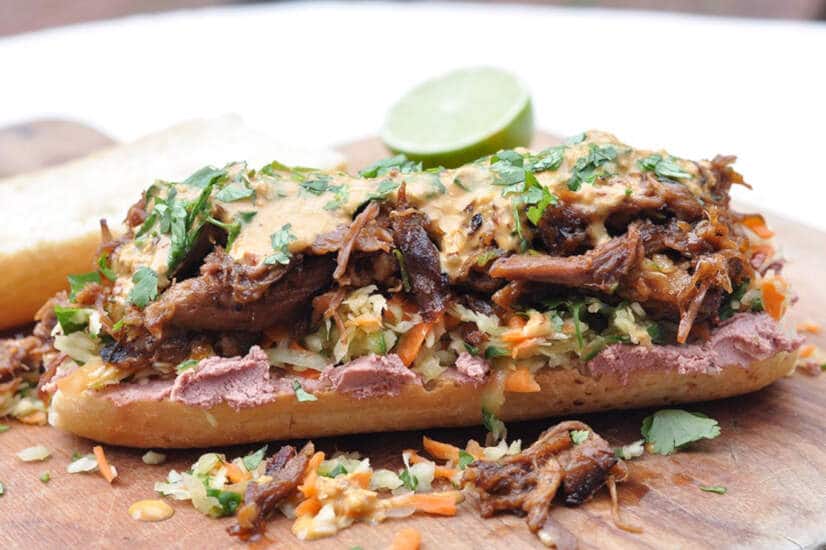 Pulled Pork Banh Mi
Home | Recipes | Slow & Low
Bánh mì sandwiches originate from French colonialism in Vietnam, bringing together French-style bread with classic Vietnamese ingredients and flavours. We thought we'd throw a little Mexican into the mix as well, and we're very happy with the results of Pulled Pork Banh mi.
Adding a few twists to the classic banh mi, we used leftover pulled pork made with our Chipotle Paste and topped the whole thing with a delicious little sauce made with our Chipotle Mayo.
Serve this pulled pork banh mi with a side of Chipotle Coleslaw.
Prep time

24 hours

Cook time

1 hour

Total time

25 hours

Ideal for

Snacking

Make it

Mexican

Serves

2
How to make it
Get a frying pan on to a low heat and slowly heat the pulled pork with a little olive oil and the grated zest of the lime.
Pre-heat the oven to approx. 125C. Take the baguettes and, using your finger tips, brush a little cold tap water over the outer surface (this will stop them from drying out too much in the oven). Pop in the oven.
Meanwhile, smash up the peeled garlic and ginger with a little salt and a lug of olive oil in a pestle & mortar or food processor to make a smooth paste. Add to a mixing bowl.
Add the Gran Luchito Chipotle Mayo, lime juice and most of the roughly chopped coriander leaves and mix together.
In another mixing bowl, grate the cabbage, cucumber and carrot into another bowl. Squeeze out and discard as much liquid from the mix as possible, then add the sesame oil, soy, vinegar, some roughly chopped coriander and a little salt & pepper to taste. Mix well.
Remove the baguettes and cut down the side. Spread the bottom with the chicken liver pate. Next add the vegetable mix followed by the pulled pork. Top with the Gran Luchito Chipotle Mayo mix and a sprinkle of fresh coriander.
Have you tried these recipes?