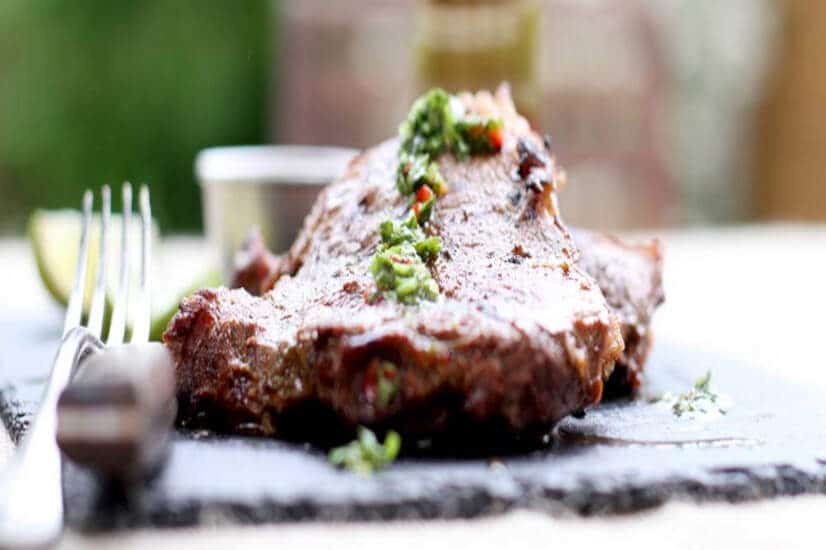 Homemade Chimichurri with Smoky Chipotle
The addition of Mexican chipotle chilli into this Homemade Chimichurri makes this Argentinian classic recipe even better. Full of lovely fresh flavour.
For best results serve onto a good quality steak accompanied by either this Mexican Ratatouille Recipe or our Mexican Mashed Potato.
Prep time

12 hrs

Cook time

30 mins

Total time

12 hrs 30 mins

Ideal for

BBQ

Make it

Mexican

Serves

2
How to make it
Mix all of the ingredients for the marinade together and marinade the steaks in the fridge for at least 2 hours, preferably over night.
While marinating, combine the ingredients for the chimichurri and pulse quickly in a food processor. Leave the chimichurri for a minimum of two hours, covered in the fridge but again it is better if you leave it over night.
Half an hour before you're ready to cook the steaks, remove the steaks from the marinade and season with sea salt and black pepper. At the same time, heat the marinade in a pan and simmer for ten minutes then transfer to a bowl so you can use it as a mop for your steaks.
Setup your grill for direct grilling, you want a nice hot grill for this.
Place the steaks on the grill and let them cook on one side. When you flip the steaks, mop the cooked side with your reserved and heated marinade. As the second side of the steak is done, flip and mop then remove from the grill and leave to rest for 5-10 minutes.
Serve with the chimichurri sauce.
Have you tried these recipes?