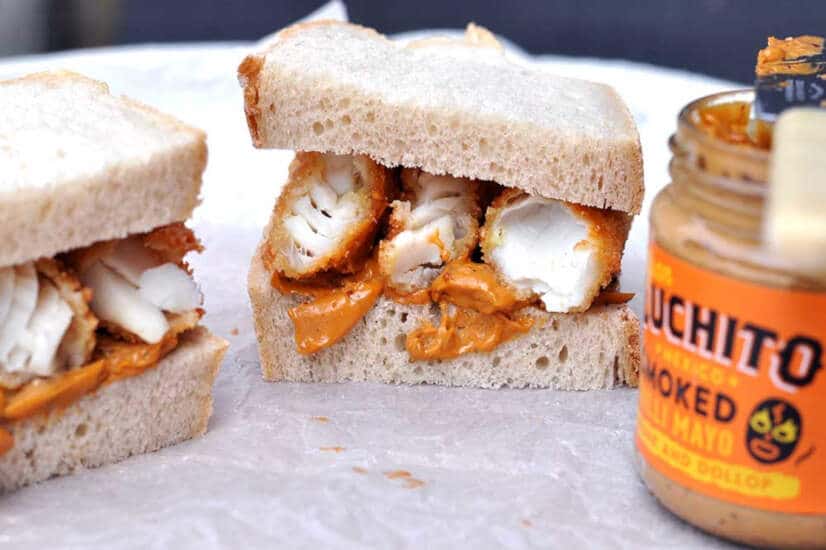 Fish Finger Sandwich
There aren't many things better than a homemade fish finger sandwich.
And when we say 'homemade', we don't mean undoing the box yourself. We mean making these crispy delights yourself, from scratch.
Jammed between two pieces of bread with a generous dollop of our chipotle mayo – or perhaps you're more of a ketchup person – they really hit the spot.
Make this fish finger sandwich a meal with either our chipotle carrot soup or Mexican bean soup.
Prep time

15 mins

Cook time

10 mins

Total time

25 mins

Ideal for

Snack

Make it

Mexican

Serves

2
How to make it
Cut the cod into rectangles about 8 x 3cm (8¼ x 3¼in).
Put the flour in a mixing bowl and add ½ teaspoon of salt and a good grind of pepper. Beat the egg in a second bowl and add the breadcrumbs to another.
Toss each piece of fish in the flour to cover completely. This is easiest if you keep one hand dry at all times. Dip each piece of fish in the egg, shake off the excess, and then add to the breadcrumb bowl.
Use your dry hand to sprinkle breadcrumbs over the fish until covered. Then you can handle it and make sure it is covered.
Repeat the egg and breadcrumb stage to make sure you get a good crunch.
Heat the vegetable oil in a large pan over a high heat. Once very hot, add the fish fingers in batches. Cook for a few minutes until golden on the bottom, then carefully flip over and cook the other side.
Once golden all over, remove from oil and leave to drain on a plate lined with plenty of paper towel.
Meanwhile, cut some nice fresh bread. Spread the chipotle chilli mayo or chipotle chilli ketchup onto the bread and sandwich the fish fingers in the middle.
Have you tried these recipes?
Uses Habanero & Lime Fajita & Taco Mix , Hot Habanero Mango Salsa , Soft Taco Wraps