Smoky Chipotle Chicken Fajitas
Home | Recipes | Fajitas | Mexican Classics
Home made Chicken Fajitas are simple to make and a real crowd pleaser!
Tex-Mex is all about simple, delicious, spicy flavours and nothing encapsulates this wildly popular style more than chicken chipotle fajitas. Do them well and you'll be rewarded with succulent and juicy chicken, perfectly spiced, with bags of amazing flavour. We used yellow peppers but you could use red, orange or green.
Packed with flavourful chicken and veggies, this homemade version uses our own Chipotle Chilli Paste for some added Mexican Magic.
For a quicker meal be sure to check out our Mild Red Pepper Fajitas recipe made with our Fajita Cooking Sauce.
Chef's tip
To avoid overcooked chicken, remove it from the pan while slightly undercooked and allow to rest under foil. Check the colour inside before serving to make sure it is no longer pink.
Prep time

1 hr 15 mins

Cook time

30 mins

Total time

1 hr 45 mins

Ideal for

Lunch

Make it

Mexican

Serves

2
How to make it
In a large bowl, mix the lime juice, a slug of olive oil, chipotle chilli paste, coriander, a sprinkle of dried oregano and a pinch of salt and pepper to make the marinade.
Add the chicken, cover and leave in the fridge overnight, if possible, or for at least an hour.
In another mixing bowl, add a slug of olive oil with a good pinch of salt and pepper and then toss the onion and peppers in it.
When you are ready to cook, heat a griddle pan until very hot. Add the vegetables and cook them for a few minutes until they char slightly on one side before flipping them over. Remove from the pan and keep them warm.
Make sure the griddle pan is reasonably clean before doing the same with the chicken. Watch carefully as it is easy to overcook the chicken.
Warm the Soft Wheat Soft Taco Wraps in the warm griddle pan while you mix the chicken and vegetables, then garnish it with the lime wedges and serve with the guacamole.
Have you tried these recipes?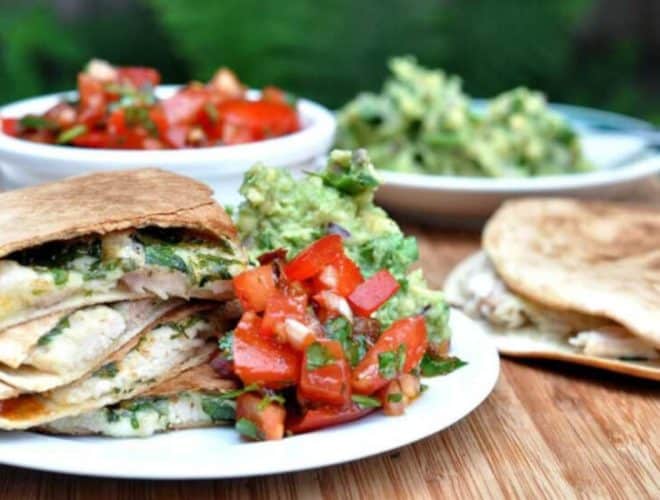 Uses Chipotle Mayo , Super Smoky Chipotle Salsa , Soft Taco Wraps , Burrito Wraps