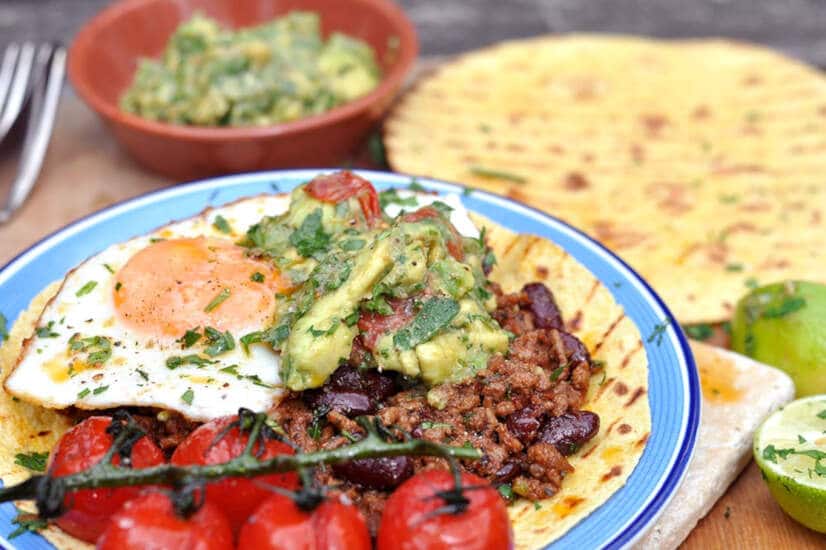 Champions Chilli Breakfast
Home | Recipes | Breakfast | Mexican Classics
Another fantastic way to use up left-over chilli. Get yourself some tortilla wraps, eggs, guacamole and tomatoes and enjoy a breakfast/brunch that'll set you up for the rest of day.
The most important element here is to nail your fried egg to perfection. Read our top tip below. Check out other Gran Luchito Breakfast Ideas.
Prep time

1 hr 30 mins

Cook time

25 mins

Total time

1 hr 55 mins

Ideal for

Breakfast

Make it

Mexican

Serves

4
How to make it
If you're using leftover chilli, simply re-heat it. If making from scratch, finely chop all the fresh veg (onion, garlic, celery, carrot, peppers) and gently fry in a lug of olive oil for 8-10 mins or until nice and soft in a large casserole dish.
Throw in the Gran Luchito Chipotle Paste, cumin, cinnamon, tomatoes, kidney beans and finely chopped coriander stalks.
Fry the minced beef with a lug of olive oil in another frying pan to brown (this will add flavour to the meat) then add to the other ingredients and mix well. Add salt & pepper.
Put a lid on it, leaving a small gap and cook on a low heat for about an hour (longer if you have time).
Make guacamole by mashing ripe avocado with lime juice, chopped coriander, salt & pepper.
Once you're happy with the consistency of the chilli season it and leave it with a lid.
Roast your tomatoes with a little olive oil, salt & pepper.
Heat a little olive oil and a knob of butter in a frying pan. Crack your eggs in. Top tip: Cover with a lid. Keep your eye on this as they'll overcook pretty quickly. Get the edges crispy but keep the yolk runny!
Warm the tortillas and spoon chilli over them, topped with an egg each (or 2 if you're hungry), a spoonful of guacamole and your tomatoes (you could squash the tomatoes up into the guacamole).
Seize the day.
*If you don't need all the chilli, simply get it in a Tupperware and freeze it.
Have you tried these recipes?