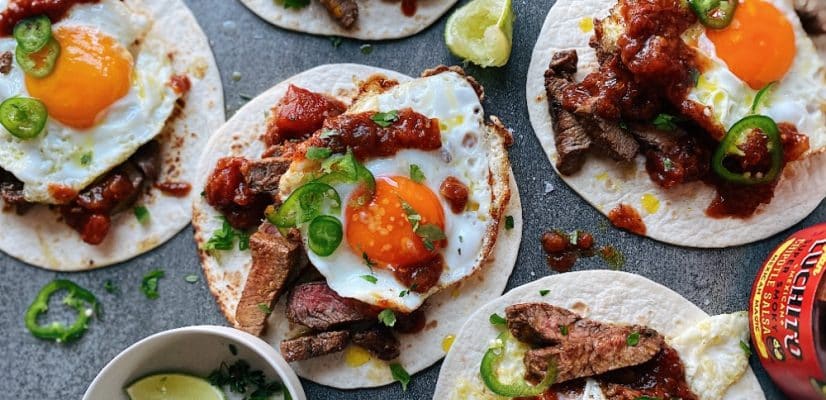 Breakfast Tacos With Carne Asada
When it comes to our favourite brunch recipes one of the first things that comes to mind is steak and eggs! There is something so satisfying about a nice grilled steak and fried egg on the side.
Now think about it Mexican style! For these breakfast tacos with carne asada, we first season our steak with our epic Smoky Chipotle Fajita & Taco Mix, and then add lime juice, olive oil and a bit of lemon thyme. The steak is then cooked in a very hot pan, finished up with a bit of butter to add that perfect finishing touch. Next up we fry the eggs in olive oil until crispy, and warm the Soft Taco Wraps.
Serve the sliced carne asada over the warmed Soft Taco Wraps, top with a fried egg and some dollops of Chipotle Salsa. Finish off with a little squeeze of lime and a pinch of salt and you'll be in Mexican Heaven! Perfect for late mornings as well as dinner, tacos are good at any time of day!
Prep time

5 mins

Cook time

15 mins

Total time

20 mins

Ideal for

Breakfast

Make it

Mexican

Serves

2-3
How to make it
Place your steaks on a chopping board and season with the Smoky Chipotle Fajita & Taco Mix. Add the lime juice, 1 tbsp of olive oil, a few sprigs of lemon thyme and a pinch of salt and black pepper. Rub the steak into all the mixture and set aside.

Heat up a frying pan and add the remaining olive oil, sear your steaks and cook them to your liking. Add the butter at the end and baste your meat with the juices.

Remove the steaks from the pan and wrap them in tin foil, let them rest for 6-7 minutes before cutting.

In the meantime fry your eggs with olive oil and a pinch of salt, and set aside.

Warm up your Soft Taco Wraps over a hot pan and slice your steak into strips.
Serve your wraps topped with the steak strips, a fried egg and smoky Chipotle Salsa. Enjoy!
Similar Recipes You Might Like to Try
Please let us know what you think of this recipe